Sustainably develop local education by developing local students
"This program aims to achieve goals that we set up; good students, smart students, and happy students" – Udom Kuldee, director of Aokapor school
'Inequality' in the Thai education system is caused by many factors, one important factor is the school's location. Schools located in rural areas, on the hill or on the island for instance, often deal with lack of resources and travel inconvenience, ergo they have to take a 2-hours car ride or a boat to school. The difficulty in traveling is an obstacle for teachers from other areas to teach in these schools in the long term. And when they move out, schools in rural areas will lack facilitators for a while which would result in a discontinuity in learning.

Wouldn't it be nice if we had local teachers?
Kru Rak Thin program sponsored by the Equitable Education Fund (EEF) has emerged from the intention to tackle the shortage of teachers due to the school's location by producing local teachers who will return to work in their hometown.
The annual Kru Rak Thin scholarship offering begins with recruiting potential candidates who want to become teachers, come from a poor background, and live in a rural area. They will be granted scholarships to study in the Faculty of Education and after graduation, they are going to work as a core faculty in the school in their own communities. They do not have to adapt to the new environment or learn how to travel to school, they will be able to teach in the long term because there is no need to move elsewhere.
This program does not only help to provide enough teachers for local schools in order to support continuity in learning but also to develop those schools by increasing quality teachers and creating a network of knowledge exchange.

"Aokrapor School" is the model school in the 1st generation of Kru Rak Thin program. This school is in Pru Nai subdistrict, Koh Yao district, Phang Nga province. It is located in the middle of the Andaman Sea among Phang Nga, Krabi, and Phuket. The fastest route to this school is to take a 1-hour ferry crossing. During the monsoon season, it is more difficult and takes longer to travel, and there are no other routes. All things considered, this school dealt with a high turnover rate in these past years. This school was viewed as a 'temporary stop' for teachers from other areas.
"Teachers in this school usually turnover because they are not local people, they come and go. They became teacher assistants and once they managed to adapt to the new environment, and students started to get familiar with them, they moved out. This results in discontinuity in learning. Some of them have to teach here for 4 years but they proceed to move out after 2 years in special cases." Said Udon Kuldee, director of Aokapor school
For this reason, when the school was contacted to join the Kru Rak Thin program, they immediately recruited students who were interested, and we eventually got 2 students in the 1st generation Kru Rak Thin. When the program is over, one of them is going to be teaching here and another is going to teach at Ao Ma Muang school which is nearby.
Director Udom views this program as a 100% effective solution to solve the existing problem because local students are already familiar with their communities and schools. Once they become teachers here, they will not move out. They would also have a better understanding of the community and its culture than teachers from elsewhere. People in this area are predominantly Muslims. If we have a teacher who understands the culture and Islam, it would be easier to engage with the community.
"I, myself, am a local and my house is 400 meters away from this school. I studied here when I was little, I was an alumnus. I became a teacher here and, later, the deputy director. In the end, I proceeded to become a school director here. Now, I am trying to persuade local teachers to come back and teach at this school."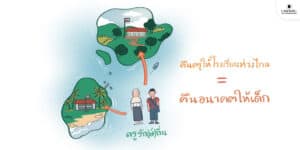 Returning teachers to rural schools = Returning future to the children
Director Udom further mentioned that Yala Rajabhat University has coordinated with the school to help with students' home visits. He brought the team to visit every household which is good because the team gets to see family in person and talk to the parents directly. He never thought the family could be this miserable. In some cases, the parents cried during the visit and said that their children wouldn't have had a chance to go to university if it's not because of this program. Similar to 2 students from Aokapor school who joined the Kru Rak Thin program, both of them are good students with good behavior from poor backgrounds. This program helps them to go to university and to pursue their career.
For the 2nd generation Kru Rak Thin program, the school was informed that there is a quota for local students to teach at Ao Ma Muang school. Director Udom thinks that this will make the process easier because everything falls into place. However, the recruitment will be more difficult because they anticipated that more students would want to join this program due to the outcome of the 1st generation. Moreover, parents want their children to become bureaucrats because of decent welfare.
Director Udom concluded, "Nowadays, a lot of children are interested in the Kru Rak Thin program, especially when they have seen the example from the previous generation. The villagers also want their children to join this program and become teachers at local schools. And I do believe that this program will help us to achieve the goal we set up, which is to be good students, smart students, and happy students."
3,651