"The life of students who had received a scholarship from Equitable Education Fund improved a lot. They are supported to study. With this kind of scholarship, students are supported to go to school without worrying,"
said Acting Police Major Wichai Chaina, a teacher at the Border Patrol Police Learning Center, Pa Ya Kha Community, Ubon Ratchathani Province.
'Border Patrol Police schools' are among the top priorities for many organizations to support in improving the educational quality. There are many factors that contribute to educational inequality in Border Patrol Police schools. The first factor is the fact that these schools are located in remote areas, so teachers from other areas couldn't come to teach students due to difficulty for traveling. Consequently, border patrol police officers need to be trained to become a teacher there. Second, Border Patrol Police schools are located far away from other schools or universities with learning materials and efficient staff. Another important factor is that the economic status of students' families in border areas is poor. Many households don't have enough money to support children's education.
For this reason, following up on and helping students at Border Patrol Police schools are urgent missions for Equitable Education Fund (EEF). EEF team speeded up finding and screening students who are in greatest need by granting financial support in a form of conditional cash transfer or 'equity scholarships' which is half allocated to students to help them with expenses for education and living. And the other half of the grant is provided to schools for creating projects supporting life skills development.
Educational scholarships for better quality of life
The Border Patrol Police Learning Center, Pa Ya Kha Community, Ubon Ratchathani Province is one of educational institutions in remote high land areas. Families of most students have lower socio-economic status. Some of students' parents make a living from getting hired to harvest latex of rubber trees in neighborhood area. Some of them work in other areas or provinces. Most of their houses are built as a temporary shack, with no toilets, running water and electricity, even so most students are eager to go to school for better life.
Acting Police Major Wichai Chaina, a teacher at Border Patrol Police Learning Center of Pa Ya Kha Community is responsible for teaching and screening students who meet the criteria to receive a scholarship from Equity Education Fund (EEF). In the screening process, he had to visit students' home and later found out that some of students' homes are just a temporary shack with pieces of wood as floor covering. The families consist of grandparents and grandchildren. The parents work in different province or work in Bangkok. Some families don't have electricity access, so they have to use lanterns or access electricity from solar panels instead. Some have electric generators. Some students have batteries that need to be recharged at school, so they can use the batteries at home. Moreover, some families don't have access to running water, so they have to use pool water at the school for consumption.
"Some families live 3-4 kilometers away from school. Some students have to walk to school, so they have to wake up at 5 in the morning to arrive school for classes in time. Some students get a ride to school by parents or they get a ride-sharing from their neighbors who share the same travel route. Most of the students live on steep slopes. That makes it difficult to travel there. I was on a ride through a rocky, rough road.  There was no flat ground because we were on top of a mountain. It took 2 days to visit all students. But it's my duty, so I have to do it.  Knowing that my students got the scholarships, I felt rewarded," said Acting Police Major Wichai."
Acting Police Major Wichai explained that his students in greatest need all received the scholarship from EEF. Most students used the scholarship for their stationaries, school uniforms, clothes, socks, shoes and school bags. As for the fund for school, teachers used it as a budget for making an oyster mushroom farm, raising broiler chickens for selling to save the income for students' lunch fund.
According to Acting Police Major Wichai, the students' quality of life has improved a lot. He said that if the students received the scholarship every semester, they would get the support that allows them to go to classes more.
 "We have to thank EEF for taking us in consideration. The students here live in extreme poverty. So, getting a scholarship for them means that they will have meals, new school uniforms like other students, new sportwear for PE class. They are happy to go to school. They could even save some 5-10 baht a day at school's savings cooperative for buying their necessities in the future," added Acting Police Major Wichai.
Fund students, alleviate the financial stress of parents
The Professor Dr. Nevin Skrimshaw Border Patrol Police Learning Center at Buntharik District, Ubon Ratchathani Province is another model school that received the scholarship for equity from EEF. This school has been working on projects to take care of student's well-being for a while. The projects include, for example, mushroom farming and processing to generate income for students and school. Financially supported by EEF scholarship, they can operate the projects smoother.
Teacher Paijittra Somsri explained that with the scholarship the school received, the teachers would invest in a project for processing mushrooms after they already invested in creating a mushroom farm previous semester. They would make mushroom cookies and mushroom chili paste. The processing has already been planed but was not operated yet at the time. The teachers would invite local teachers and local mushroom farmers to share their knowledge with the students. The mushroom products would be put on sale. The income would be distributed to students and a budget for equipment for next batches of the mushroom cookies and mushroom chili paste.
"With this money, some students bought a bicycle because they live far away from the school. Some students live in a distant farm. It took a walk of almost one kilometer for them to reach school. Some students bought their necessities with this money like groceries, new school bags and stationaries, so their family's financial stress was alleviated. Although it was not a lot of money, it helped parents a lot with saving their household expenses. The students don't have to skip classes to help their parents with working, so they attend classes more," said teacher Paijittra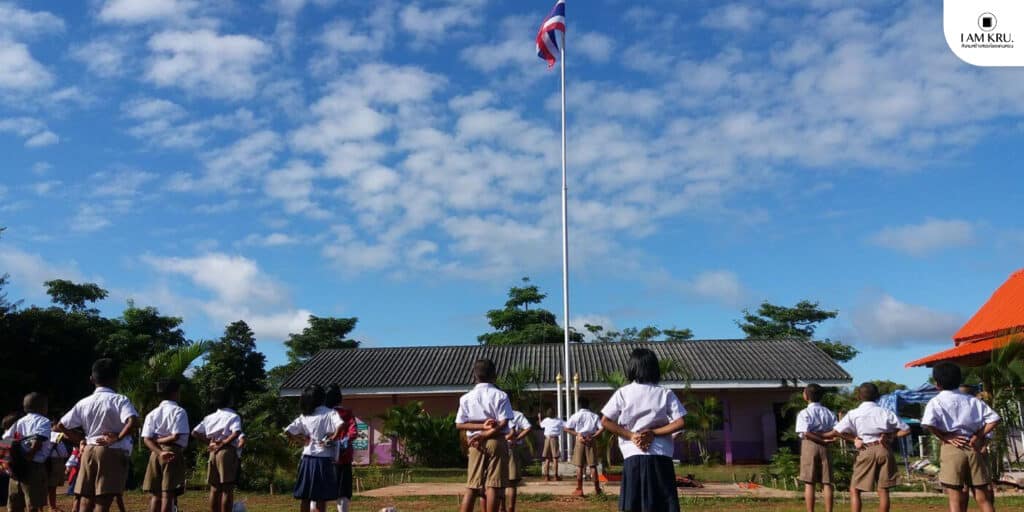 Teacher Paijittra also added that screening system for the scholarship of EEF could effectively target the students in greatest need. Students from a family in more severe poverty would get financial help before those who struggle less. According to the survey to collect data at students' home, some of students live in a temporary shack, not a proper house. All the family members sleep together in an empty room. Living in a forest area, they don't have a toilet. Neither do they have access to running water and electricity. If they want to watch a TV, they have to watch it at a neighbor's house with solar panels.
"Before I moved here, when I visited students back when I taught Border Patrol Police Learning Center, Pa Ya Kha Community, I had to take a motorcycle ride with my colleague through a rubber tree farm because a pickup truck couldn't get into the area. We had to go up hill on a small slope. We almost got into an accident. Sometimes, a student led us to their home because some of their houses are located far away along Laos border.  But I made it to every student's house because I wanted them to get the scholarship. I'm happy that they got a scholarship because that means they will have a better future when they have access to education," said teacher Paijittra.
The stories of students from these Border Patrol Police Learning Centers let EEF and educational institutions see more opportunities to support students in remote areas with education. The students in border areas have potential to learn and life skills. They only lack financial help to support them continuing on studying. Therefore, EEF intends to expand the distribution of this equity scholarship to more areas in order to create the same success that has happened in the two previously mentioned schools.
465