'A positive force field' is one of the concepts that set off a systematic change in school. When learning is not determined to exist solely in the classroom, students will begin to exchange ideas and seek knowledge by themselves via the 3 main innovations that support learning continuity, which are Jitsueksa learning method, Problem-based Learning (PBL), and Professional Learning Community (PLC) 
The speech of the new teaching method founder
"We have developed this systematic teaching method since 2009 We began at Lamplaimat School in Buriram province and later extended to other model schools and schools in the network. To make a real change, we need to extend to 400-500 model schools and expand to other schools which would take some time." Teacher Wichian Chaibang said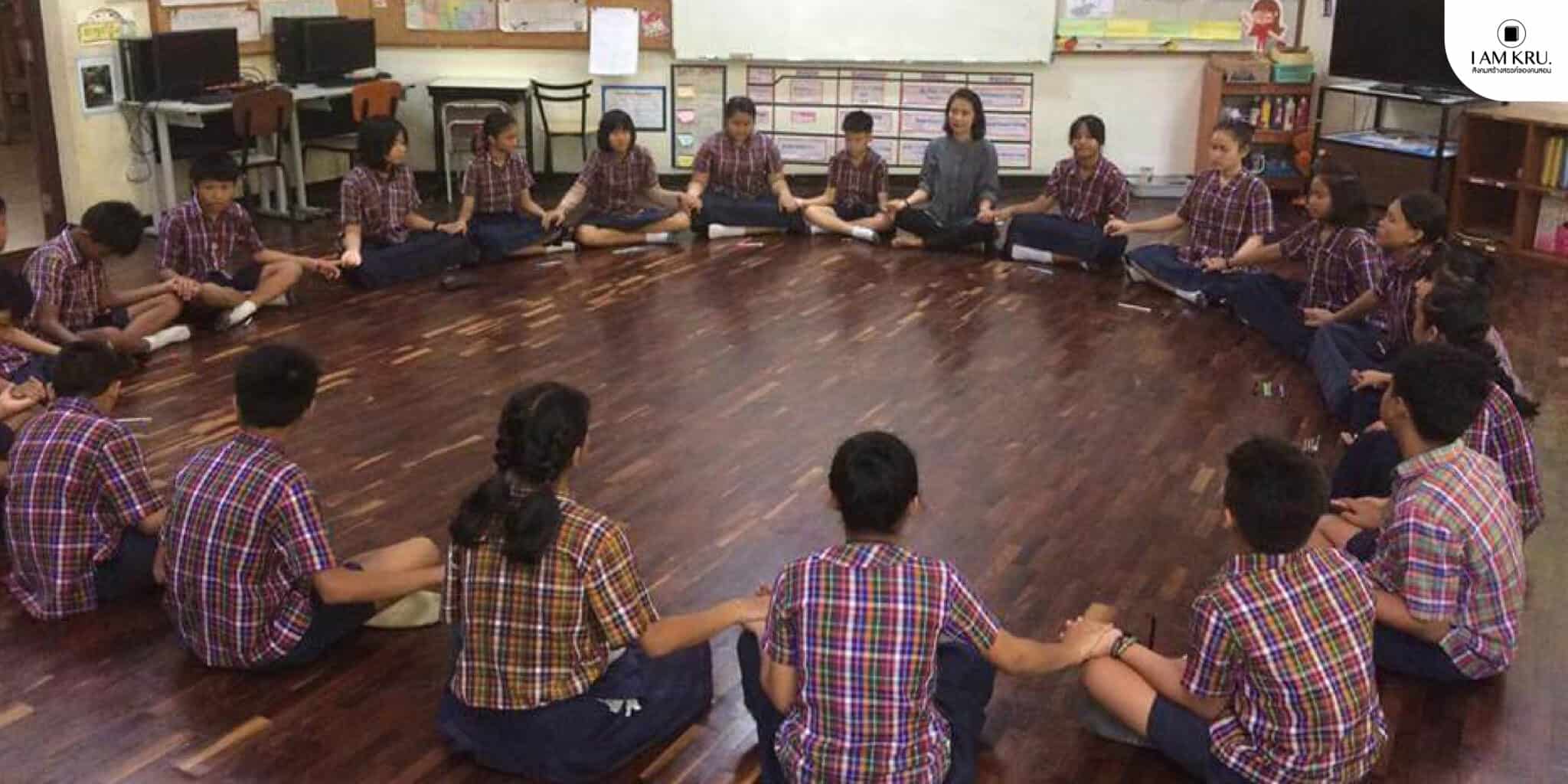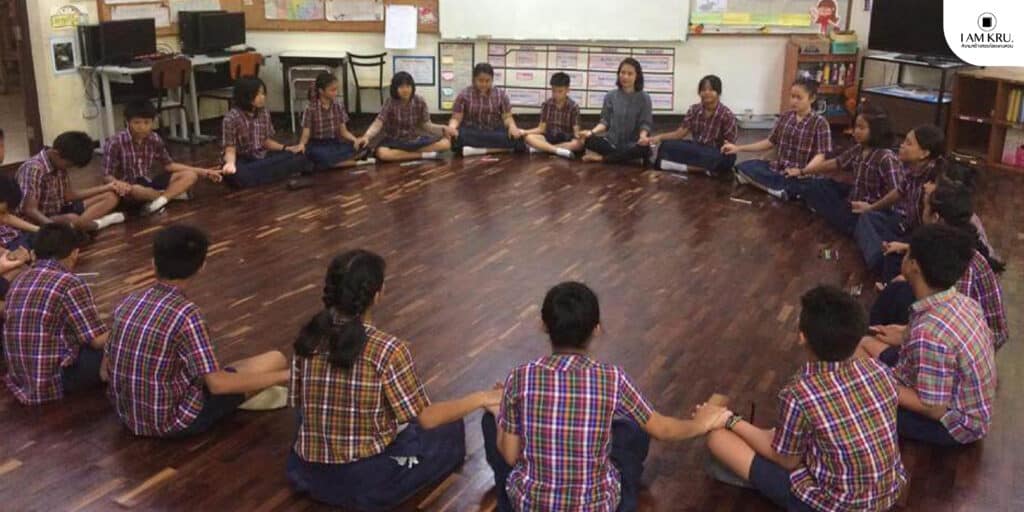 Nowadays, the Lamplaimat Pattana Foundation becomes 1 of 5 important academic units that aim to develop 288 target schools in 35 provinces with support from the Teacher School Quality Program (TSQP) by Teachers and Schools development office of Equitable Education Fund (EEF). The purpose is to develop schools' qualities, helping them systemically and continuously develop by themselves, and preparing teachers to transfer knowledge to students in the 21st century.
The school with the frameless mindset and no bell ringing
Learning should be co-designed. Students have a chance to select the topics that they're interested in while the teacher acts as a facilitator, and everyone is happy from being part of the class. Therefore, PBL is recognized as an effective factor in changing teaching methods and is extended to other schools with the goal to create actual lifelong learning.
This place is called 'the school outside of coconut shell' due to a frameless mindset and a belief that
"We will do anything to ensure that students are not being forced. We will not include the school bell as part of the school but we rather create a new norm, a new culture that allows students to manage their own time and know their schedules; what to do in a day, and when to stop doing it. This would create a time management habit for them, they will be able to manage their time and know what to do without being told to attend the morning ceremony or go to class." Wichian said
He also added,
"The key variables are schools, executives, and the bureaucratic system that has another way of thinking. We need to help them develop, and wake them up. Each one takes a different time duration. After they awake, we help them to build the skills they need to completely change the school, making it a better place. We anticipate a complete change in 2 years."
The innovation of 'inner-wisdom' development
The first educational innovation for the learning development of students and teachers is 'Jitsueksa learning method' which aims to develop 'inner-wisdom', helping learners to understand and set their goals. This can be divided into 3 paradigms starting with creating a 'positive force field' of teachers for students. When students feel safe, healthy, and hygienic, they tend to bond with the teacher well along with mutual respect.
After that, teachers have to apply 'positive psychology' to their students by looking for habits they need to stop as well as habits they need to start doing, based on the respect for equal human dignity. For instance, comparison, ranking, compliment, and trust. These factors help to signal a sense of safety to students' frontal lobe, they will be able to equitably learn once they received respect and recognition of their values.
The last method is 'Jitsueksa learning activity' which is divided into 3 steps in 20 minutes before attending class. The first thing is to prepare mental states for students by doing a brain activation called brain gym or any activity that could help to gain consciousness in 2-5 minutes.Let them consider and reflect on what they have felt to activate critical thinking and decision making in the frontal lobe. The last step is to close the session by providing positive energy for the students.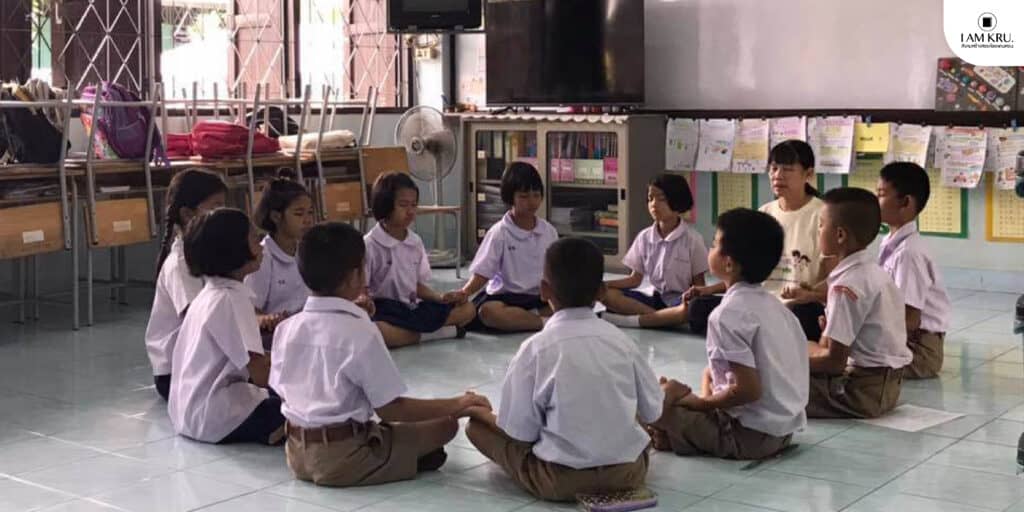 These activities aim to achieve 3 goals which are enhancing professionalism, mindfulness, and self-learning ability. Furthermore, this will help students to be able to make an ethical decisions on their own, providing a living guideline and the ability to view surrounding things as they are, not what they should be considered with the aspect of goodness and badness. 
"Activating the brain for approximately 200 days will affect the change of brain structure; students will become more contemplative, carefully making any decision with taking into the cause and effect. They will eventually find themselves. The goals are to ensure students' reactions to things around them and responsibly live their life without troubling others. This concept can be applied to students from kindergarten to 9th grade but the activity will be different in each age." Wichian explained the result.
When every change affects learning in students
The strengthening of 'outer wisdom' should be enhanced along with inner wisdom, and these things can increase students' skills in solving problems on their own. Therefore, 'PBL' is an appropriate process in this step, and using an active learning method further enhances students' understanding of the world and other useful pieces of knowledge that would become useful in daily life or in the future.
Teacher-enhancing process so-called 'PLC' also has an impact on students. Thus, these methods were developed in a form that is easy to comprehend and effective when applied to each school along with 2 factors. First is supporting factors, such as having a safe and clean space and a new cultural way of life including the method to help students to create humans interaction with nature. Second is the learning factor, which is having various collaborative learning activities such as lesson study, case study, and collaborative system study. However, this process requires skills training for teachers to succeed, especially perception and additional self-conduct skills such as deep listening, dialogue, and facilitator skills. If teachers understand these skills, it would allow PLC to enhance teachers' ability to teach students.
The phrase 'teachers change, students change' from Wichian is proven to be true after applying all mentioned innovations in school. The result has shown that fewer students are absent, some are never absent, and students become closer to their teacher and join more activities. They started to conduct themselves to focus on the lesson which further assure their academic success.
"If PLC works, everything will change, and we have seen that change. Teachers realize that what they have been doing is not right for students and the human learning process. After that, we will see an attempt to mend their teaching methods by applying PLC. They became more active learning teachers; understand their students better, have less lesson planning, and have more knowledge creation. We can see it in every school we went to." Wichian said
What we should be emphasizing in the future is not academic performance but continuous collaborative learning because it would be beneficial throughout their life. The measurement of other learning achievements is fine but we should emphasize this first because students with collaborative learning skills will be able to adapt accordingly under any circumstance.
Therefore, the change through collaborative learning management is important to the contribution of the never-ending learning. According to Wichian, "When humans are fond of collaborative learning, they will see through things as they are. Inequality would not exist. Now is they are not able to understand things around them because of the inequitable of learning management."
268