Creating educational opportunities with Kru Rak Thin project
Changes in education can be done by developing excellent teachers to pass on knowledge to students who later will become the foundation of a country. Often, the efforts don't successfully bring results as educational inequality in remote areas hinders efforts to develop effective teachers.
In response to the obstacle, the project of Kru Rak Thin or the project of creating educational opportunities for students in remote areas is established to support the students to become teachers of a new generation to improve the quality of local schools, supported by Equity Education Fund (EEF) along with organizations from various sectors aiming to drive a working process sustainably.
Today the project has entered its second year. Assoc. Prof. Dr. Daranee Utairatanakit, a subcommittee chair directing Kru Rak Thin project, has been following up on each process in the areas to see if it meets the objectives or if there are any challenges to handle with.
"Every educational institution joining Kru Rak Thin project has clear objectives which are developing kindergarten and elementary school teachers to teach at their hometown schools and solve teacher shortage in the country. Teaching in remote, local areas requires teachers who are familiar with a local context. If teachers from the northeastern region went to teach in the southern region or teachers from the central region to the northern region, they might face difficulty in adapting to the community context including the way of life and cultures. As they have difficult time adapting themselves to new environments, they would become less happy and might not truly understand their students clearly due to language barrier. This problem is distinctive especially in the north of Thailand since some people don't use Thai as the main language in their daily life," said Assoc. Prof. Dr. Daranee Utairatanakit.
Teachers of Kru Rak Thin project don't just teach
The project of Kru Rak Thin is designed based on the curriculum for local teachers in an area-based context. The supervisors of the curriculum have to work in the field to find the true orientation and local context as well as to prepare the trained teachers of a new generation to be equipped with technology literacy, driven to meet learning needs of students nowadays. Meanwhile, the trained teachers finishing graduation study can apply this technology knowledge to develop their schools as well.
Another goal of Kru Rak Thin project is to develop early childhood teachers and elementary school teachers. The need for these teachers has become a key requirement of small schools with students ranging from kindergarten to sixth grade. Or some schools have only 20-30 students, so a teacher needs to be able to teach all subjects or teach students of different grades. The teacher needs to know how to observe all the students and to be able to identify which students are slow learners, so the teachers can work with the parents to additionally help the students with learning development. Thus, the skills of observation and identification also have to be taught at university.
"It's our determination to develop the homegrown trained teachers, so they can go back to teach in their community and in their hometown. They will become excellent teachers as a result of our designed curriculum supervised by Kru Rak Thin institution. Not only do we need the trained teachers to be effective elementary school teachers, we also need them to be community developers and leaders," added Assoc. Prof. Dr. Daranee.
"Therefore, the teachers' role is not only teaching but also working with the community. Whether it's a school in a community or a school in a city, communities should be involved in developing schools, especially in small schools or schools in remote areas through the process of brainstorming and collaborating in the areas. If the community joins in the process, parents will play a more important role in developing schools for their children in which the community joins the school personnel, the leader in developing schools.
The cost of developing teachers
After Assoc. Prof. Dr. Daranee had followed up on the project progress at Muban Chom Bueng Rajabhat University, Ratchaburi Province, one of eleven institutions that join the project of Kru Rak Thin, she draw a conclusion that to reach the goals, 'institutions for training and developing teachers are important the most'. The following also reveals slight and great difficulties in teaching, for example, the lack of efficient computers of most students. The new computers are thus distributed to students because they are important for the learning process.
However, throughout 4 years of each student participating in Kru Rak Tin project, they are not only supported to become a quality teacher but they are also supported to grow as a person.
"Obviously, each university designs a curriculum that doesn't only provide courses taught by the professors from the Faculty of Education or The Faculty of Educational Sciences, but the courses offered are also taught by professors from various fields to develop the trained teachers in this project throughout the 4-year program such as community development, special education and psychology."
"We invest a lot in this project with the budget from taxes. The goal of EEF is to develop new generations of teachers. We give them a chance to study further in a university. Formerly lacking a chance to continue their studies, the scholarship students will get the support to thrive and to make the best out of this educational opportunity funded by tax money. After they graduate, we want to see them with the true spirit of being a teacher and the motivation to teach in their hometown. This is the first project to ever specifically develop teachers to teach in local schools in Thailand."
Lessen educational inequality with higher teaching quality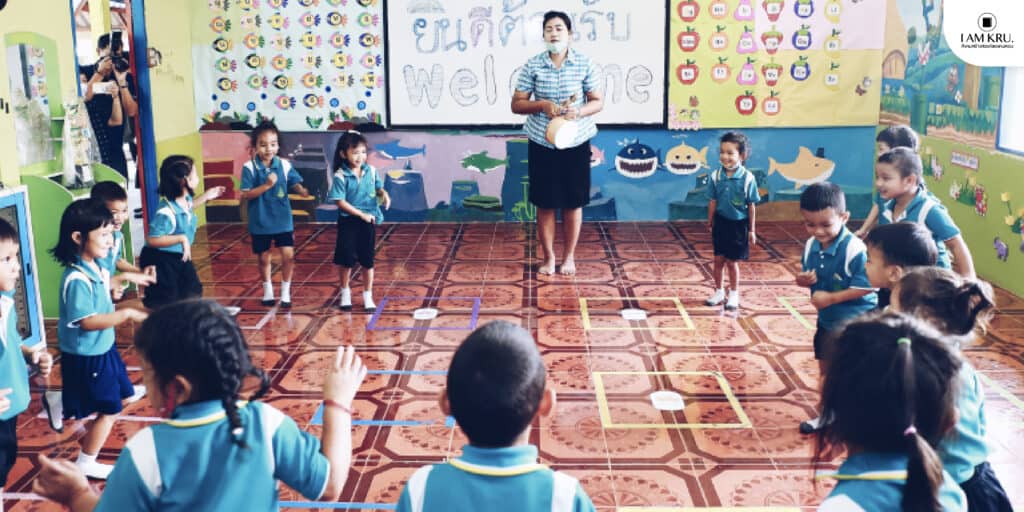 Today, while a rural area has gained its importance as a foundation to develop new generations of young people that will become a key role in developing the country in the future, this area still faces massive inequality in education. The challenges of the huge educational inequality can be divided into two main topics which are 'inequality in access to education and education quality.'
Currently, Thailand has almost completely solved inequality in education. If the formal school system doesn't meet students' conditions, there still be non-formal education to provide these students an alternative access to education. Therefore, educational opportunities are equal. However, the main problem which is obvious disparity in education quality needs solutions as well. That's why Kru Rak Thin project aims to develop excellent teachers to teach in small local schools to reduce the inequality in education quality as much as possible.
"As for the goal of Kru Rak Thin project to solve teacher shortage in rural areas, we could tackle this problem to some extent. EEF could not cope with the challenge at a large scale, but we could conduct a thorough practice, study, research and model and pass these on to the people who are in charge of operation," added Assoc. Prof. Dr. Daranee.
The progress of Kru Rak Thin project's batch two has reached the selection process of institutions that will develop early childhood teachers and elementary school teachers. In this progress, the knowledge gained from the first batch of the project will be passed on to the second batch. Next year, there will be an analysis to find out which specific subject teacher the local early childhood and elementary schools need, for example, a PE teacher. Although the teacher could also teach Thai, the teacher should also know specific skills to help develop students such as physical activities that will help students with disability or slower learners with learning development.
Local context matters for learning
Besides, the project needs to create a large source of learning. A forum was therefore created to exchange experiences among teacher training institutes because each institution has different innovations to develop teachers and it's to foster the teaching community to become a more diverse learning source.
I'm impressed with Muban Chombueng Rajabhat University's staff. We have worked together, so I have learned that the teachers and students have gone through challenges. Some cultures have been passed on to the new generations of teachers. Retired teachers came back to work with teachers from new generations. To me, this is what makes the organization special and strong. Organizational culture is important because, with good role models, the training teachers of new generations will absorb the spirit of being a teacher throughout their four years of studying," described Assoc. Prof. Dr. Daranee her impression of the forum.
The team have been following up on the training teachers of the project
"We don't just send them to teach at a local school. We provide them a supervisor and also work on some preparations at a school for them. Therefore, problems occurring at local schools are researched and the information is taken into consideration for designing the project process together with the teacher training institutes to find a way to prevent the problems and solve them. In doing this, EEF staff and teacher training institutes staff work closely to design the project process."
"Last year's overall outcome was satisfactory thanks to all teachers' hard work. The teachers actively reach out to students rather than waiting for them to apply for the project. Despite difficulties in traveling to wild and remote places to reach the students' homes, home visits allow many teachers to learn the importance of educational opportunities more. Therefore, it's beneficial to both teacher training institutes and EEF."
As a result of the project, we will have more new teachers who teach in their own hometown with the true spirit of being a teacher.
"We want them to be proud of their hometown. When they go back to work as a teacher at a local public school, they also have a chance to be employed as a government teacher. Being a teacher at a local school is well regarded. We give them a spirit of being a teacher who wants to teach for their hometown school and we equip them with new skills for today's world including technology literacy," said Assoc. Prof. Dr. Daranee.
392