Build age-appropriate thinking skills with "Research-Based Projects" and "Little Scientists House"
"Children who have been taught with an emphasis on building thinking skills will know how to question and formulate hypotheses toward their surroundings. They can even analyze and figure out the answer primarily from existing information by themselves,"
stated Assoc. Prof. Pairoj Kirirat, a professor of Prince of Songkla University and supervisor of a project that encourages thinking processes in the classroom for elementary students.
Childhood is the age of curiosity, inquisitiveness and skepticism. As a consequence, every child needs a learning that utterly supports their performance. The course and teaching method of a number of schools, however, concentrate on memorization which lacks the developmental dimension of "skills", resulting in students' slow growth in developmental milestones. Kindergarten and elementary students in Thailand are mostly short of necessary skills such as critical thinking and creativity skills. Students will miss the opportunity to improve those skills unfortunately if their parents cannot afford additional course fees that deliver the necessary skills. 
 The Equitable Education Fund (EEF) then set up a big challenge to reduce educational inequality which is introducing students to learn how to think and create new things by themselves without having to seek these skills outside of school. Children must have the chance to grow up naturally and must be provided with equitable learning despite the area they live in.ม
Create a learning method out of "Research-Based Projects"
The Teacher School Quality Program (TSQP) under supervision of EEF was established with the aim to develop participating schools. The goal is to encourage schools to continuously develop themselves throughout the whole system, including solid administration, high quality teachers and preparation of 21st century skills that students should master. The program prevails upon 288 targeted schools which covers 35 provinces. TSQP is cooperated by academic departments, one of which is Prince of Songkla University in assistance with the early childhood education development located in selected areas.
Prince of Songkla University has applied their experiences and expertise in educational management for elementary students to affiliated schools under Office of the Basic Education Commission (OBEC) and Department of Local Administration (DLA). The idea is to create learning through "science projects" as a tool to build a body of knowledge from a specific experience with the thought process that relies on principles of research. In order to instill scientific capabilities, knowledge synthesis and problem-solving skills in students, the lessons should be shaped by the community environment that students can generally notice. They should begin by solving surrounding problems prior to higher quality development. The features of the program will vary depending on students' grade level.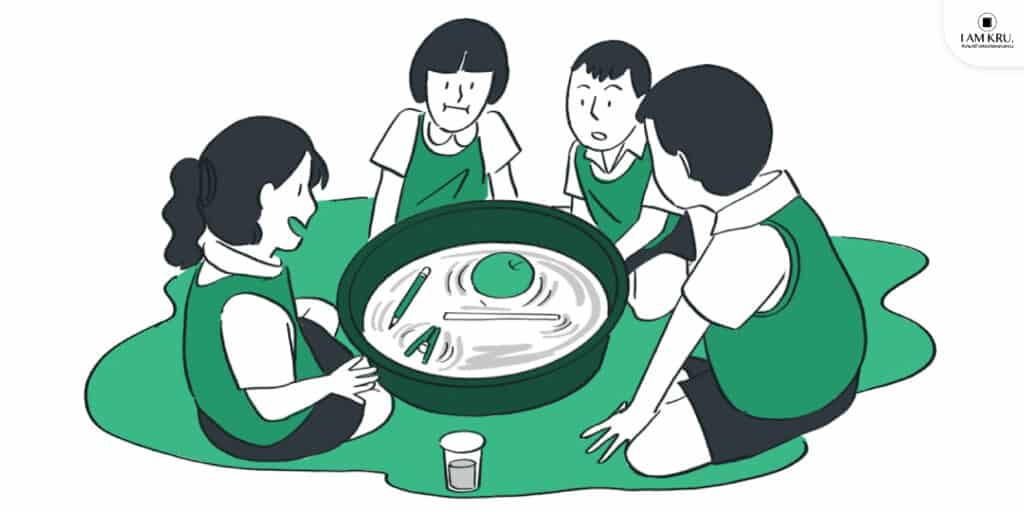 "Little Scientists House" for children
In terms of early childhood students and elementary students, a decent classroom that allows them to be "curious" and to "take actions" is vital, because they will grow up with the possession of inquisitive characteristic and eagerness. Professors of Prince of Songkla University then create classrooms that encourage students to think through the "Little Scientists House" project by which the procedures begin with transmitting scientific teaching principles and research-based learning for teachers. Accordingly, teachers can stimulate students to think and control upcoming processes in the classroom.
Assoc. Prof. Pairoj Kirirat, a professor of Prince of Songkla University and supervisor of a project that encourages thinking processes in the classroom for elementary students claimed that, according to experiences with "research-based project" and "Little Scientists House" project, Prince of Songkla University has combined the knowledge obtained from the two syllabi and generated a lesson that is suitable to targeted groups of students. Little Scientists House project is put into effect for kindergarten students that are in Kindergarten 1 – Grade 3 whereas the research-based project is applied to students of Grade 4 – Grade 6. Since both of the curriculums commence with community-based questions which process mainly through experiments, the lessons achieved will individually emerge in accordance with distinctive local contexts. Consequently, students will develop the ability to question, formulate hypotheses and discover the answer by themselves.
"Given that altering the teaching method from an original emphasis of students complying to the principles to stimulating them to think, as we attempted to design in sequence, the process has finally occurred in the classroom. Students will be eager to learn once they are allowed to think and discover the answers from their surroundings. We will integrate contemplative education in order that students can mentally and physically prepare themselves and instill thinking principles. Additionally, students can take actions by following different procedures by way of group work. They will learn and accept the opinions of others. The end result will refine into a lesson. A teaching method apparently influences a change in students. In the activity room, children who have been taught with an emphasis on building thinking skills will know how to question and formulate hypotheses toward their surroundings. They can even analyze and figure out the answer primarily from existing information by themselves,"
said Assoc. Prof. Pairoj Kirirat over the principles to create thought processes in early childhood.
Asst. Prof. Amporn Sornprasit, Faculty of Science, Prince of Songkla University also mentioned that the Little Scientists House project is derived from Programme for International Student Assessment (PISA). The Little Scientists House project is agreed by research on the course of building a positive attitude toward skill learning and scientific processes for children who are between 3 and 6 years of age because the referred age range shows the most benefit in terms of learning and memorization.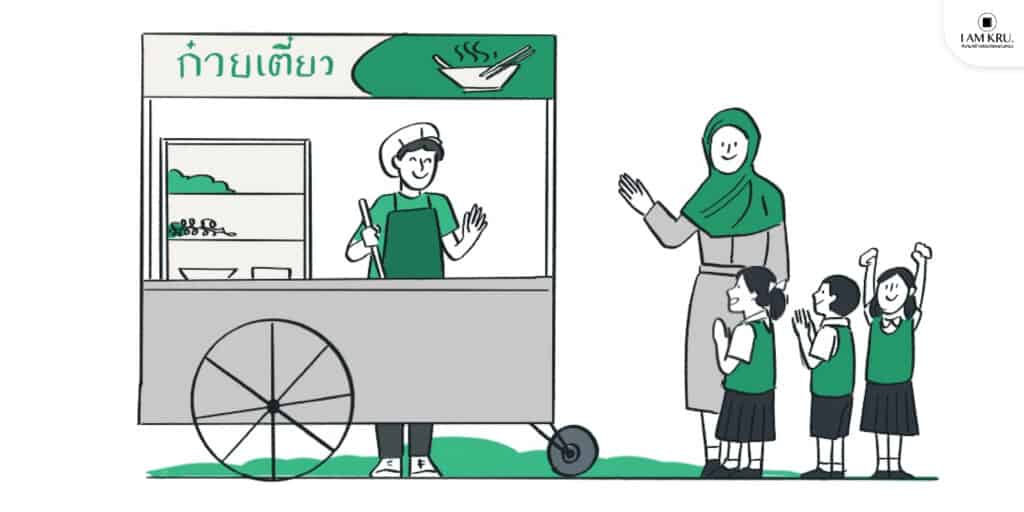 Community as a foundation of educational development 
Organizing activities for Kindergarten 1 – Grade 3 students does not concentrate on merely passing on knowledge. Rather, students conduct self-study, a learning method managed by teachers based on interests in the community environment. On one hand, students of schools in urban areas will engage in activities following their interests toward nearby communities, buildings and stores. For example, a study of a noodle shop. Students will learn the change of the appearance of noodles from uncooked to cooked or the process of making simple desserts from neighboring dessert shops in which there will be experiments according to science that are in their everyday lives. On the other hand, students of schools in the countryside will study surrounding natural phenomena which concern soil, water, wind, sky, weather and light.
Moreover, they can learn from local productions and agriculture. In fact, shaping lessons out of the surrounding environment motivates scientific interests and curiosity in students.
Assoc. Prof. Pairoj Kirirat added to the research-based project which is a curriculum for Grade 4 – Grade 6 that students will search for problems by which they need to pose questions and formulate hypotheses on their own toward the method as well as predict the result. Students will undergo brainstorming as regards their subject matter, identifying issues and designing experiments. Students will also have to discover the independent variable and the dependent variable during a group work by themselves. Since teachers will only suggest, students have to sequentially think of the causes and effects solitarily. In cases of designing an experiment, students have to search and share the information in the group before cooperatively concluding in which they adhere to every principle and process of a research project.
Regarding assessment, Asst. Prof. Amporn Sornprasit explained the assessment criteria that, TSQP has local agencies in assistance with evaluating every school that has creatively produced projects per annum. This defines the quality standards of a school. Schools that have passed the assessment will be rewarded with a royal seal by Her Royal Highness Princess Maha Chakri Sirindhorn as a guarantee that schools must maintain the teaching standard as well as improve for the better.
The Prince of Songkla University has carried out "Little Scientists House" and "Research-Based Projects" in more than 20 elementary schools, financially supported and coordinated in the matter of the school management system by EEF. TSQP has now started to lay out the pattern for teachers to develop this teaching method 3 hours per week without disrupting the normal teaching and learning process.
The result of all students in the participating classrooms will be traced. Teachers who are facing online teaching problems can consult with the program organizers. From this moment forth, the Prince of Songkla University and EEF intend to expand the two programs in other areas to develop students' skills at an appropriate age and build "little analysts" who will generate such enormous benefits to the community and the country in the future.   
546