"Educational management needs to be consistent with the future world. Skills such as IQ, EQ, DQ or Digital Intelligence as well as soft skills need to be developed altogether"
said Assoc. Prof. Dr. Daranee Utairatanakit, Qualified Director of Equitable Education Fund(EEF).
More than a hundred thousand of students have quit the education system within a year. Two important reasons given for the cause are insufficiency of familial capital and the learning method that does not meet students' needs. Equitable Education Fund(EEF) then pursues solving the two main problems by funding in cooperation with various sectors, including schools and vocational institutes in different parts of Thailand for educational support and career creation available for students in the future. Another reason concerns the learning method.
Teacher School Quality Program (TSQP) or "self-improvement schools" in short is one of the attempts of EEF that was established to develop quality in education of the medium-sized schools in order to reduce the growing number of students quitting education as the teaching method and the lessons provided do not serve the purpose of their lives. TSQP has collaborated with different schools to create a classroom that is "knowledgeable, entertaining and practical" in all areas of Thailand.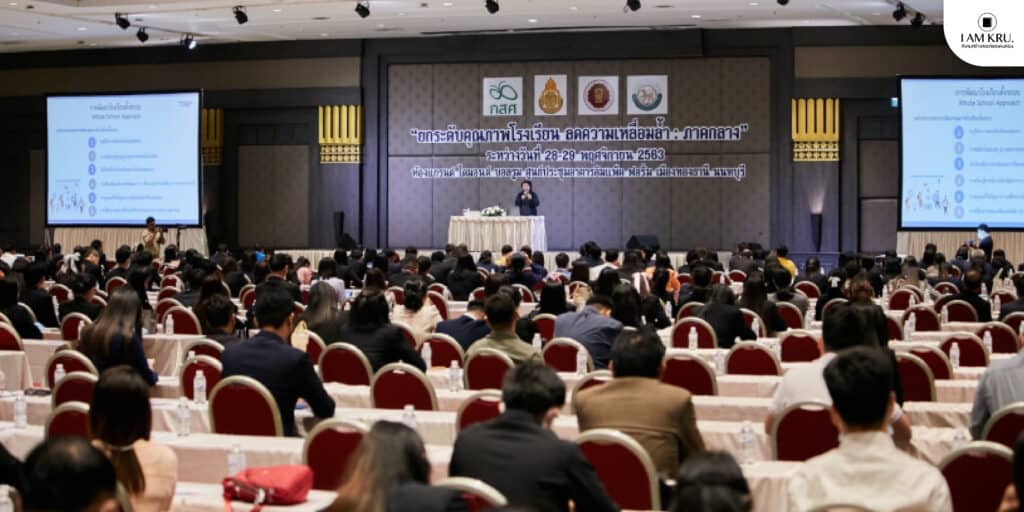 The importance of a knowledgeable, entertaining and practical classroom
Assoc. Prof. Dr. Daranee Utairatanakit, Qualified Director of Equitable Education Fund(EEF), stated that the success factor of the TSQP project depends on leading teachers to changes until it generates Whole School Approach(WSA) that simplifies both the teaching method and the administrative manner in the school. This transformation initially requires teachers' recognition of students' potential.
"For example, there is this alumnus of Kasetsart University Laboratory school who regularly went to school every day, but never attended classes because he was disinterested in the teaching method. Later, I found out that he is now a computer genius and is currently pursuing a Master's Degree in computer-related fields. It also includes many students who prefer Sports, Music, Khon (a Thai traditional dance) and MC (Master of Ceremony) rather than Academics. If we are quick to discover their identity, it is easier for us to help them reach their goal."
Students and educational personnel today are framed by a fixed learning and teaching method that is all similarly oriented. The TSQP project aims to resolve the problem of the fixed pattern of learning and teaching method by focusing on teachers' recognition towards students' potential and their way of life concerning what purpose they wish to implement their knowledge for. Consequently, teachers can put forward a way of teaching that benefits all students. Additionally, if teachers realize what problems students are facing, for instance, some students have medical problems such as depression, they can be of assistance in every way possible. Teachers can be sent to the hospital for examination arrangements in case students are admitted until they can overcome the crisis altogether. This helps reduce the number of students dropping out of the education system each year.       
'Active Learning': a learning method for all students
The TSQP project places a high emphasis on the teaching process occurring in the classroom. Active learning, as a result, is provided to embrace students' self study and the ability to create a process or work by themselves. Each school has to apply active learning to their lessons following different grade levels as it will highlight students' potential clearly on their preferable skills. In contrast with the original teaching method, it is impractical for teachers to observe students' identity.
There are various processes teachers can apply to active learning which includes assigning students to conduct a project relevant to what they have learned during a semester. This, in effect, will bring the best result. Active learning can also be applied to several subjects and reflect on a number of skills: critical thinking, creativity in the production process and communication through work presentations to convey teachers and classmates an understanding and acknowledgment. Moreover, teachers can employ other processes such as role play by having students view from the character's perspective to understand the lessons, group discussion or even playing games. Any techniques that allow students to discover and learn by themselves can all be applied to active learning.   
Create a learning in accordance with age and developmental stages
The advantage of active learning lies with its process that can be adapted in accordance with age or developmental stages. Active learning grants slow learners to catch up to their classmates and prevents fast learners from becoming isolated or disinterested while learning with others.
The crucial part is to take care of at-risk students. Information has revealed that 30% of kindergarten students face a slow growth in the matter of communication, for example. Therefore, what must be stimulated is the development of some at-risk students who have already quit education to become interested in learning again when they witness their friends enjoying active learning. New teaching and learning methods have proven to help lessen students quitting the education system.
The other side of the coin that is also a problem revolves around the curriculum that does not meet the needs of fast learners. Some junior high school students may be more proficient at what they are capable of than high school students. It can be seen in the past that the United States has never encountered the shortage of teachers and students can study at their own pace in terms of education. Combining students of various grades is beneficial because there are differences among students.    
Concentrate on soft skill development for the future world
Assoc. Prof. Dr. Danaree claimed that the development of medium-sized schools with underprivileged students can work under the Whole School Approach to become a model institute for other schools. Prior to students becoming skillful, teachers must change. By which they are required to be primed with the skills necessary for educational management in order to develop the 21st century skills for students to live in the world of the future collectively with technologies such as Artificial Intelligence(AI). Teachers should also advocate knowledge exchange within the network of school quality development following the way of active learning and support research studies along with follow-up assessment for each school.
"Educational management needs to be consistent with the future world. Skills such as IQ, EQ, DQ or Digital Intelligence as well as soft skills by focusing on what Artificial Intelligence (AI) is not capable of, including communication, cooperation, analysis and creativity. These skills cannot take place without interactions."
Developing skills, especially soft skills, is considered adding up "flexibility" for students and their families to handle crises that may occur in the future. Accordingly, teachers must put strength and self-management skills in students through active learning.
"I expect changes in teaching and learning methods that do not only refer to a result of students' better grades in Science or Mathematics, but also student improvement in soft skills in which this success will expand to other schools in the area. Many students will benefit from the changes. I leave this hope to everyone" said Assoc. Prof. Dr. Daranee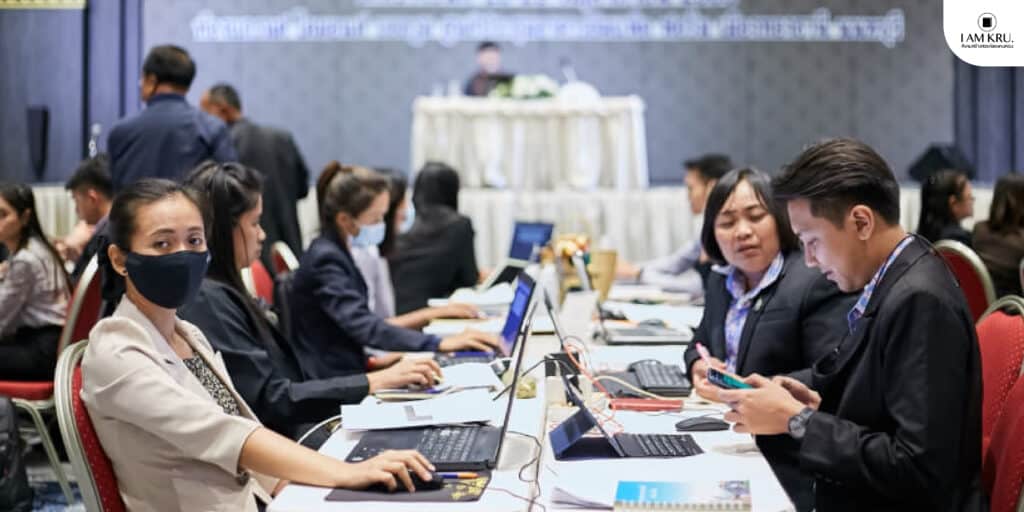 A soon to be model network of self-improvement schools
For the goal of the TSQP project, Dr. Udom Wongsing, director of the Teachers and Schools development office of Equitable Education Fund (EEF) said the Whole School Approach is a systematic school development with cooperation of every sector including school directors, teachers, school personnel as well as parents to uplift the quality of education and the characteristics and behaviors of students. WSA, in summary, is a mission of 3 aspects: management, teaching management and environmental support along with other things that will continue in the future.
Therefore, the goal of the TSQP project is for "schools" to be able to think, develop themselves in a whole system and be prepared to become a model institute to expand the result to other schools. "Teachers" must have educational management skills that prioritize learners according to active learning. Hence, "students" can possess 21st century skills.
The goal is accompanied by the intention that every element is assembled into a "network" of collective learning that will spread to communities to collaboratively develop the quality of Thai education.
206