Learning development to achieve visionary results by "self-assessment" technique
"Developing a human being with a living soul cannot be processed by numerical assessment as mere criteria of determination. Similarly, people imitating a measurement of a fish's skills by its ability to climb the trees compared to a monkey's is a reflection of today's assessment" said Assoc. Prof. Dr. Thanyawich Vicheanpant, director of the Office of Research and Innovation Development, Sripatum University Chonburi Campus.
Many countries today have realized the importance of modifying the method of assessment in the education system because evaluating in conformity with "answer sheets" and "arbitrary criteria" of each teacher does not reflect an accurate outcome concerning student attainment. It is interesting to observe which method of student assessment is the most efficient. Altering the evaluation method causes changes in teaching and learning methods, enabling it to reflect students' capabilities during study time in the eyes of teachers, classmates and the students themselves.
Teacher School Quality Program (TSQP) by Equitable Education Fund (EEF) recognizes the significance of the development and reflection of students' capabilities that can be furthered. TSQP then implements process-oriented learning by the Organization for Economic Co-operation and Development (OECD) with the purpose to encourage 75 schools under the TSQP project to build up competent students according to their interests.
Process-oriented learning ideally reflects competencies
Process-oriented learning aims at various elements and skills, analytical thinking, creativity and a special technique which is students' ability to conduct self-assessment and participation in peer assessment. The result will demonstrate wide-ranging perspectives, not only those of the teachers'.
Assoc. Prof. Dr. Thanyawich Vicheanpant, one of the co-developers of TSQP and director of the Office of Research and Innovation Development Sripatum University Chonburi Campus, explained that, based on the philosophy of education, there should actually be a part where students can assess themselves. However, Thai education has always omitted self-assessment as it is believed to be a matter of abstraction, that takes a part in deeply reflecting students' minds, which is considered intangible in real life. On the contrary, these things are beneficial and worth more than numerical evaluation or grades.
"Human nature prefers simplicity and clarification rather than having to interpret. Nonetheless, developing a human being with a living soul cannot be processed by numerical assessment as mere criteria of determination. Similarly, people imitating a measurement of a fish's skills by its ability to climb the trees compared to a monkey's is a reflection of today's assessment."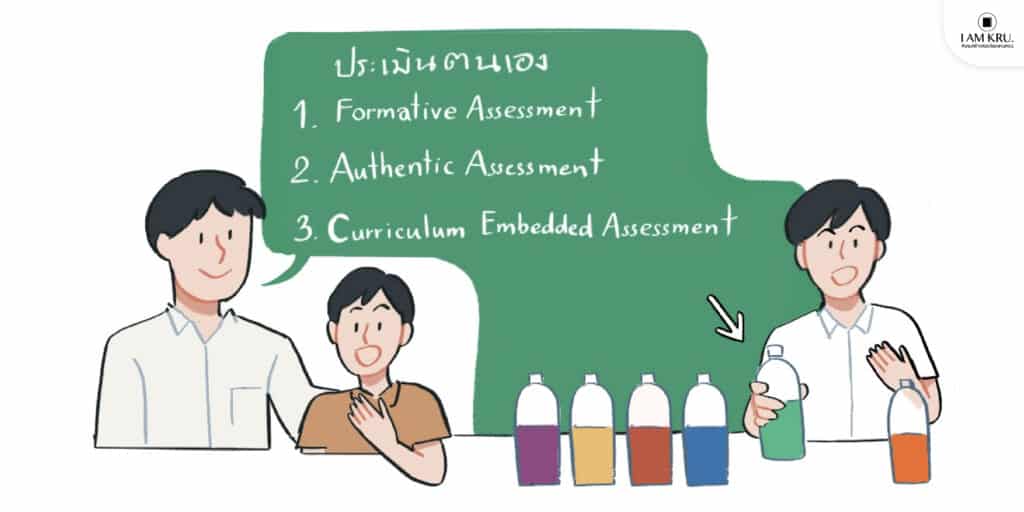 How can students assess themselves?
Assoc. Prof. Dr. Thanyawich concisely explained 3 employed self-assessment formats as follows
Formative Assessment or evaluation for development. This pattern concerns students' conclusion of their self-study in class, week, or semester. Students will revise their actions, whether they are good or bad and what they like or do not like. Lastly, students will realize the parts that need improvements and what they are capable of in order to further develop more on a specific talent.
Authentic Assessment or an assessment that relies on realistic conditions by using expected objectives and behaviors. It is in opposition to a short-term evaluation such as examination periods. Instead, it allows students to assess themselves during classroom activities concerning their skill development. This becomes more effective than teachers entirely evaluating students as it allows students to reflect on themselves from their perspectives that teachers may have not noticed; a self-reflection. Experienced teachers will know if students are being truthful or not and it will be witnessed by classmates. Therefore, it is unnecessary to worry about the inaccuracies of the assessment.
Curriculum Embedded Assessment is an evaluation known as one of the activities for development and growth of students. For example, students must bring up their attainment in terms of the body of knowledge, academic contents and their behaviors during study time. It is a process of knowledge crystallization. If teachers and students sometimes lack knowledge crystallizations and communications, what should be achieved will vanish. Otherwise, if there are always conversations between them, students will understand the lessons more and there will be no students left on the way.
The 3 formats of self-assessment can be simply called by terms such as Reflection, After Action Review(AAR), Crystalize, Share et cetera, depending on teachers' naming process to draw students' attention. Also, Assoc. Prof. Dr. Thanyawich viewed that the 3 patterns should collectively be put into effect as each has different strengths. They can be adapted based on lessons with no fixed designs. In the case of teachers, they will play a role in evaluating as well as providing creative suggestions.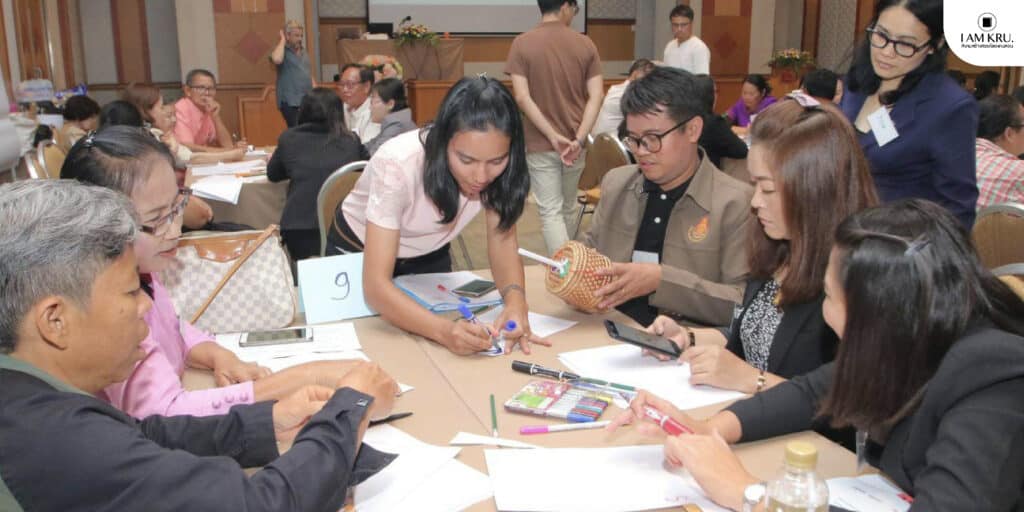 Self-assessment results in students becoming more proficient
"The result may be just a number that cannot determine the good, the bad, the proficiency and the weakness of learners. Rather, it is to observe each skill's evolution. In the future, there will be courses to evaluate competency which is not a test, but an assessment of students' ability. It can be compared to the Taekwondo promotion from the yellow belt up to the black belt which will be determined by the real competency. This way of evaluation will play a role in competency learning more."
Assoc. Prof. Dr. Thanyawich regarded that student self-assessment does not merely result in a numerical score, but also qualitative development. According to the OECD's work in education for over 20 years, Assoc. Prof. Dr. Thanyawich emphasizes the matter of self-assessment during the initial years of working, because he believed it will have an impact on everything. He also aims at changing the learning method which basically focuses on lecturing or passive learning as it prevents students from showing their actual behaviors. It hence becomes difficult for teachers to notice the real identity and competency of students, or even students do not recognize who and how good they are. For that reason, OECD then prioritizes the development of active learning in schools.
Additionally, if lecture-based learning, passive learning or the traditional way of learning that is a fixed mindset as opposed to the growth mindset, still persist, Assoc. Prof. Dr. Thanyawich viewed that there is no chance to see the authentic behaviors of learners. Consequently, it is impractical to allow self-assessments such as Formative Assessment, Authentic Assessment and Curriculum Embedded Assessment in the process.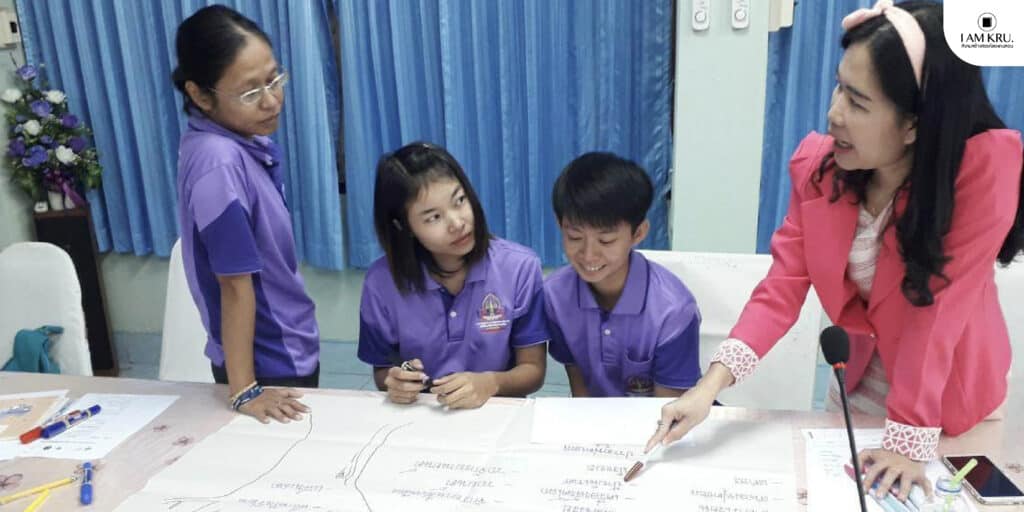 Self-assessment case study of Watkukham school
An example of a school of the TSQP network that intervenes in self-assessment in process-oriented learning is Watkukham school. School personnel of Watkukham school understand the way to bring out talents and sensations of students through different methods. By which, those methods concentrate on creating colorful classrooms that make students feel comfortable and open to reflect themselves straightforwardly. ​
Since self-assessment does not have to rely solely on communicating with teachers, Watkukham school then uses interesting self-assessment activities. For instance, teachers will bring 10 'colored water bottles' arranged from empty to full bottles to replicate a scale of 1-10 in front of the classroom as a device of student evaluation. By the end of the activity of the innovative class, each student will stand in front of the 'bottle' that they think reflects their well-deserved score. Specifically, students who think that they deserve a full score of 10 will stand in front of the fullest bottle, the others who think they deserve a score of 5 will stand in front of the half-filled bottle. Subsequently, teachers will allow students to explain the reason concerning their self-assessment. What follows is a group discussion in which classmates will participate in giving opinions. Score summary is the last procedure along with useful suggestions will be given by teachers supervising the activity.
Furthermore, there are other patterns of assessment employed by Watkukham school. Linear assessment, for example, involves teachers posing mental assessment questions of an agree, disagree, and not sure scale. The classroom will be distributed in front, middle and back spaces to replace each answer. Students will move to the spot they choose in accordance with their emotions. The advantage is teachers will immediately notice what students are thinking. Another assessment pattern comes in spidergram. Learners will assess themselves in each axis of assessment according to their self-perception of a deserved level. Thereafter, students will be in a group and take the achieved spidergram to assemble and review with classmates to reflect on each other's assessment.
Students then will be informed of their classmates' points of view. In terms of arranging an assessment activity, it is inessential to create similarity for all subjects or institutes. 75 institutes may have 75 activities of assessment. The activities do not have to focus on entertainment or extreme creativity that neglects the core of assessment because the importance or core of self-assessment is the 'process' that teachers need to convince students to speak up, think and analyze themselves based on the actual conditions.
262