"Kuan Meed Market": A guideline to enhance skills for Thai students to earn money
There are a variety of unequal educational issues in Thailand, one of the main problems is financial difficulty in each household. This problem causes inequality among schools and prevails in many parts of Thailand. Unfortunately, the pandemic of COVID-19 has halted many kids from going to school because the school was cancelled, and parents who work as merchants or staff in retail stores could not run their businesses smoothly, so they did not earn sufficient amount of money as usual. The problem becomes even worse.
As an educational authority, how do we maintain a learning environment for students and help their families to get a remedy?
The Teacher School Quality Program (TSQP), under the supervision of the Equitable Education Fund (EEF), has been working on finding the solution to educational problems and financial difficulties of the family, through a new fundamental learning system, together with enhancing the school to create an educational innovation, to help students and their families get through the pandemic. This article will reveal the procedure of the TSQP and the outcome covered by the project known as 'Kuan Meed market' of Kuan Meed Community school in Songkhla province.
The TSQP program with its problem-solving mechanism
The TSQP program emphasizes the whole school approach without having to depend on the central administration. The program collaborates with the local higher-education institutions, providing knowledge to school executives and teachers in TSQP program in order to adjust their teaching styles to improve students' learning skills. The expectation is for learners to develop their critical thinking skills, creativity, and hand-on learning system. Students would get to construct knowledge and create their own piece of work. This project has been operating for 2 years with many branches in many areas, especially rural areas, in order to provide access to education for all child.
A case study: The success of Kuan Meed Community School
"Kuan Meed Community school", Klong Peer subdistrict, Chana district, Songkla Province, is one of many schools in the TSQP program affected by the COVID-19, educationally and financially. Due to the economy shrinking in Thailand, the villagers, most of whom earn income from rubber plantations, are dealing with an economic slump in the rubber industry, resulting in a reduction in household income. When the government declared a national lockdown, people faced with the difficulty of going to work because they are prohibited from going outside. In conclusion, COVID-19 has further intensified financial statuses in many families, which has an impact on children's education.
Supol Bottachorn, Kuan Meed Community school director, recognized this problem and applied knowledge gained from the TSQP program to develop an online community market platform or the "Kuan Meed online market" as a center of buyers and sellers. Seller would be able to find buyers in one place and vice versa. He tried to put the students' product from the research projecta in the online market to earn money for them and their families during the pandemic.
Consequently, "Kuan Meed online market" has become not only a trading area for people in Ban Kuan Meed community but also a field for children to directly practice online marketing, from accounting to developing new products that correspond with the demand from the customers.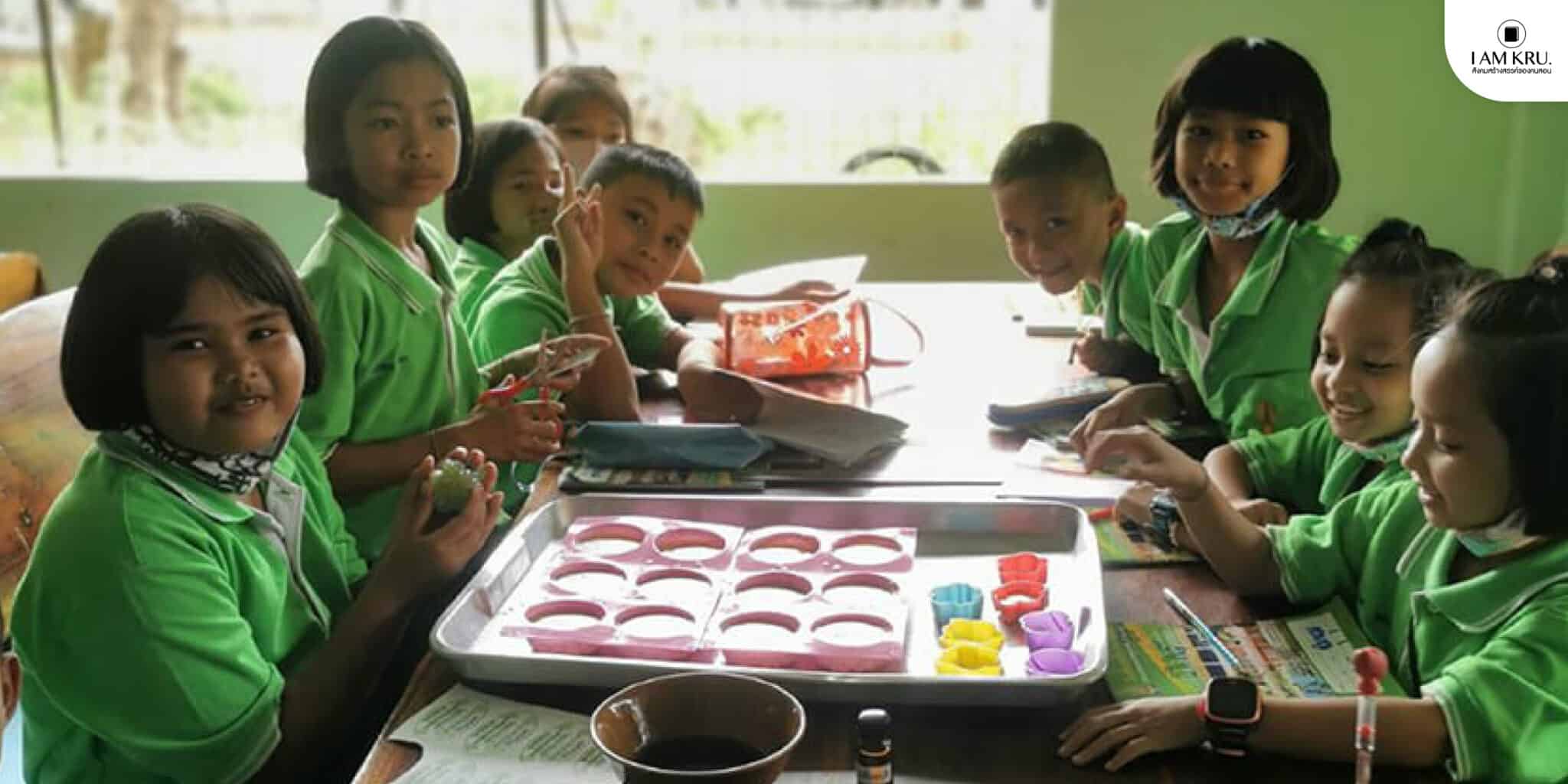 The ability to think and act provides students a good fundamental learning skills
Previously, Kuan Meed Community School has adopted "Research project", a teaching method from Prince of Songkla University, one of the partner of the TSQP program, and applied to teach their students along with regular courses. The key of research project allows students to come up with new research questions, doing experiments, inventing and finding result for those questions on their own.
The procedure of the research project does not only provide student an active learning, which helping them to develop their critical thinking instead of memorizing, but also contribute to the ability of creating and inventing their own products from local materials.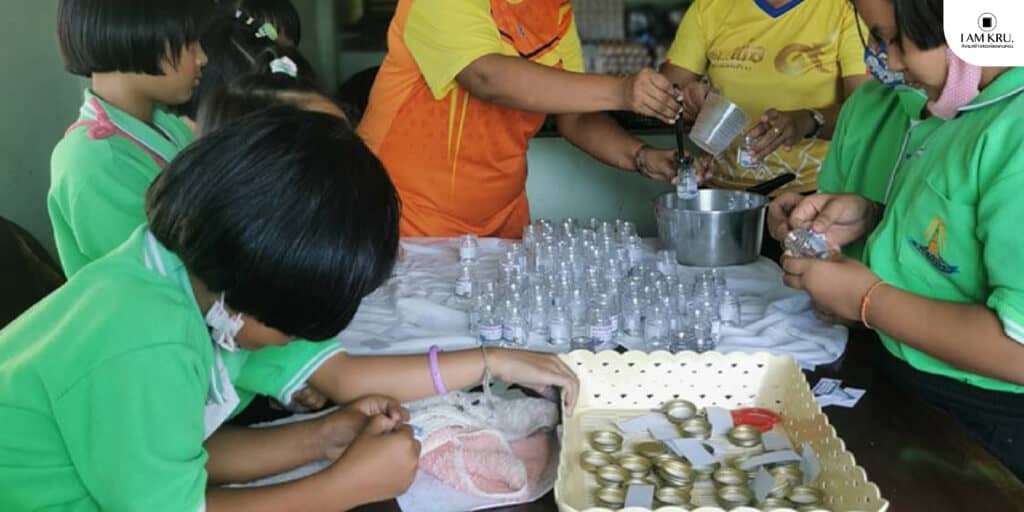 Forming a club to further products and strengthen business skills
In order to continue this research project, Kuan Meed Community School formed a club to gather all students' products from different grades and further develop to sell them online.  
"Auto – Worawit Tongchai", a 5th grade student and a president of this club said that more than 20 students from different grades joined the club. They all love transforming local materials that are easy to find into products such as Gotu kola soap, butterfly pea soap and butterfly pea balm. They can find additional information from online sources under the supervision of their teachers.
The students get to survey Kuan Meed community and its resources that can potentially be used as raw materials, and create products out of them. One of the abundant resource is Gotu kola. The kids express their interest in this plant because it can be transformed into any other products. And they can look up more ideas online.
After a brainstorming, students will have to plan what material they are going to use and choose the method on their own under their teacher's supervision. They may not succeed the first time, but after putting a lot of effort into it, they eventually accomplish it. For example, they were trying to make soap, but the soap remained too liquidy that they had to adjust the soap recipe until the soap was perfectly solidified. They have got positive feedback from the customer.
Nowadays, the club has produced and sold many lines of products under the research project, such as butterfly pea balm, herb inhaler, butterfly pea soap, Gotu kola soap and multipurpose solution from fermented fruits and vegetables, which can be used to clean the bathroom and wash dishes. The best selling product is butterfly pea balm, with almost 300 bottles sold.
"It's not hard at all if you ask me. We could do the research ourselves and work together as a group. One of our products is butterfly pea balm, we have experienced that butterfly pea helps to relieve fatigue, and it could also be used as an inhaler. After we put them on sell, we have received many orders and positive feedback. All the money earned from the balm will be used to create other new products."


Auto said that students in the club are satisfied with all the quality products from the research project, and the skills they have gained could be beneficial in the future in terms of creating something bigger. In addition, this project helped their families to earn more money in order to get through the economic recession. The school has successfully produced research project that became well-known in a wide range and also inspired other schools to become a "self-developing schools".
135