Inspiration is a key to drive Thai education, and Kru Rak Thin program is a mean to fulfill the dream of new generation teachers
The dream of becoming a teacher of one little girl is getting closer to reality. "When the new academic year begins, I start countdown to the day I become a teacher", said Chitlada Kamma or 'Thip', one of selected students in 'Kru Rak Thin' program. The program that would help to shine the light and lead students to their destinations, which is becoming a teacher.
Kru Rak Thin program aims to produce new generation teachers that correspond to the need of schools in rural areas and to give opportunities to students from poor backgrounds who possess good grades, participate in school activity, are determined, understand the unique characteristic of their hometowns, and, most importantly, possess the spirit of a teacher. They will be granted scholarships to study in a Faculty of Education until graduate with Bachelor's degree.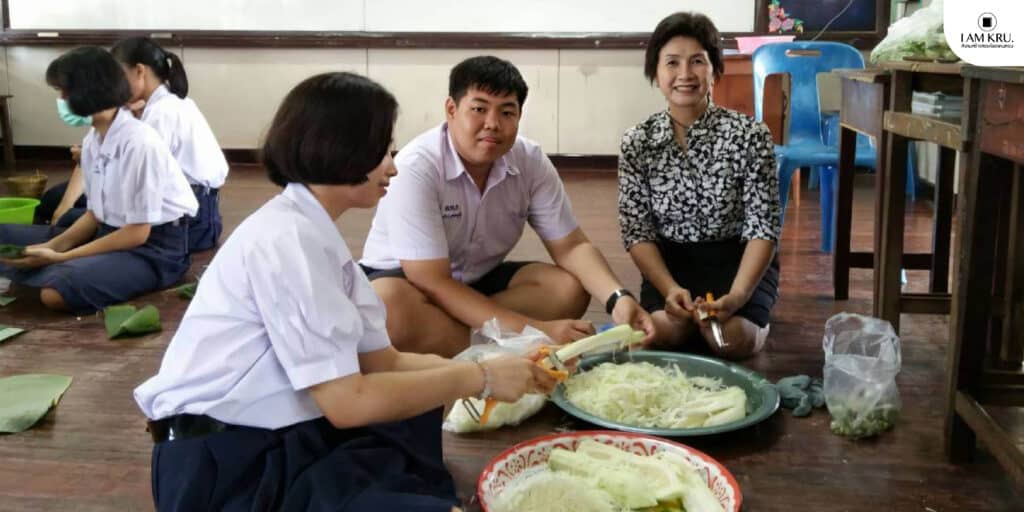 'Teacher' is the inspiration in learning
According to Thip's statement of her inspiration to become a teacher, she said "Part of it comes from my sentiment of what I have learned from my teachers since I was little. Being close to my teachers has shown me many things. So, I thought that when I grow up, I want to do the same thing which is teaching."
Due to her aspiration of wanting to be a teacher, she has been concentrating on her studies with the principle of "good grades will open the door of opportunity". As a result, she has maintained a GPA of 3.5 to 3.7 from middle school to high school. She also participated in almost every school activities such as being a school's representative to compete in an academic event. She discovered Kru Rak Thin program after she had graduated from high school.
"This program meets all of my demands, both becoming a teacher and developing my community."
Thip commented as this program is the answer to what she has illustrated for future path. She also mentioned the determination of her younger self that
"During 1st grade to 6th grade, I had the teachers who gave me a chance to learn outside of the classroom. We went on many field trips, in various significant places, to see the way of living in that particular village. We also did many community services. These things made me realize the importance of our community, and it was never mentioned in the textbook. When I become a teacher, I want my students to have activities outside of the classroom too, so they could learn about their communities and exchange ideas on what they can do to improve their hometown. That way, they will become a part of the development. I do believe that school and the community need to be connected."
'Teacher' is the medium between school and the community
Thip said that she grew up in Nong Hin district which is the place of many tourist destinations in Loei province. For instance, Suan Hin Pha Ngam National Park, Peang Din Waterfall, and Phu Pa Po mountain or well-known as 'Fuji of Loei'. She established a bond with her birthplace and wanted to reserve the area.
She also thinks that tourism is an important part of earning income for the community, and that she could pave her way to become a teacher along with her interest in tourism. If local people have good careers, children will look up to them and want to do the same. Teachers will help express 'community appreciation' to everyone, not just the students. Everyone in the community is responsible for protecting and developing the community, and teachers are merely the medium between school and the community. Their job is to support students to participate in the community at a young age, similar to what she had done when she was in middle school.          
Knowledge sharing is a key in every learning
Thip always appreciates all of her teachers who have been main supporters in determining selecting, and giving her the chance to get this scholarship. She also thanked herself for deciding to join this program. She set up a goal to be a teacher whose duty is not only teaching but also contributing to the community in which everyone is a part of development, including small children.
Another interesting thing about Thip is that she likes to teach others and share what she understood from the lesson because that is her way of reviewing knowledge. If her friends struggle with any lesson, she will be more than welcome to help them, especially physical education and social studies which are her favorite subjects. She views those subjects as essential for everyone. In the future, after graduating from Educational college, she intends to specialize in Psychology or Social Administration in order to apply the knowledge to her community.          
Although Thip is fully determined, she felt anxious due to some obstacles in the beginning, but she did not feel discouraged.
"The path to become a teacher is quite difficult. I have to prepare for a lot of things because I did not expect to get this opportunity. I thought I could only dream about it. However, I put a lot of effort into this, I took some time after school and before bed to study every day. I tried not to pressure myself too much but in the meantime I have to get to where I wanted to be. And the day has come, the day that I become part of Kru Rak Thin program."
And this achievement is the testimony of her long-term effort and dedication.
Lastly, when asked 'what kind of teacher you think you will be?', Thip answered that she will be a teacher who is eager to learn, willing to improve herself, and approachable to the students. What she wants to give most to her students is not knowledge or the ability to compete in an academic event, but an 'education inspiration' and career planning. Thip believes that if students set their own goals, they will push themselves to concentrate on their studies and wish to continue to higher education. And this will become a reality once people in the community are good example for them.
469