"Many changes occurred over the past 10 years since I've been absent from home. But what remains unchanged is the barriers to education that I encountered as a student and it's still continuing."
Teacher Sunida U-ma "Nee", a teacher from Ban Korlorgaway school, Si Sakhon District, Narathiwat province, notices problems that cause the lack of quality education among students. Due to the public image of the 3 southern border provinces of Thailand that is negatively depicted with violence, there are not many people who will intentionally help support and develop the area concretely.
The school's location was once regarded to be a dangerous zone. Approximately 40 years ago, a few kilometers away witnessed a stable base of the communist party of Thailand. It has consequently entered the chronic South Thailand Insurgency for decades.
Si Sakhon District thus has been pessimistically presented by the media as dreadful for outsiders. But as a teacher who is an alumni of the school, Teacher Nee considers poverty and students' lack of quality education worse than the insurgency because these are accurate barriers to community development.     
"We are extremely delighted every time people visit our school. It has been a long time since the last visit because people believe the location is dangerous, despite the fact that the violence has declined. The notorious image perceived of our community has never dwindled. Newcomers thus barely settle down. Some of the new teachers often resign early. Only local people are willing to steadily work because they consider this community a home or family."
Teacher Nee on revealing the local problem in her perspective.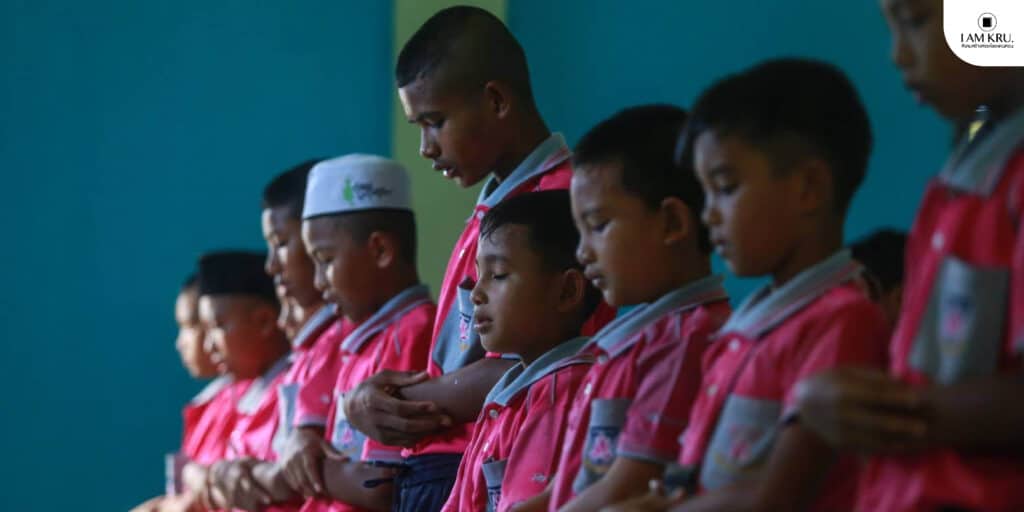 The struggle to become Kru Rak Thin
Teacher Nee said she was born and raised in the district. She attended primary school at Ban Korlorgaway school and moved to finish her Bachelor's degree at Yala province. After her graduation in Education from Yala Rajabhat University, she worked as a teacher at a private school in Raman district, Yala province for 3 years. When it was available to enroll for public school teachers, she decided to return to her hometown.
"I notice changes that have happened throughout the past 10 years that I've been absent. When I was a student, Ban Korlorgaway school accepted less than a hundred students. There were a few buildings and big trees that provided pleasant shelter all around. When I returned, even though they are able to accept up to a thousand students recently, new buildings are under construction, and the building material is changed from wood to cement. But what remains unchanged is the barriers to education that I encountered as a student and it's still continuing."
A large number of students come from a low-income family in which grandparents are caregivers. Some parents have to go to work outside the area for higher wages. In the meantime, those who work in the local area will not earn enough to pay their children's tuition fee. Children then have to take turns, either stay at home or go to school. Many of them, furthermore, face suspension of study because they have to assist their parents with their livelihood. Being constantly absent results in students' slow learning which makes them reluctant to go to school. Rather, they prefer working full-time. It seems that students have lost their motivation to recognize the importance of education.   
"When I was a student, it was fortunate for me to have been supported by my teachers and that made me realize my life goals. Therefore, I was motivated to be successful in education. From that day on, in my opinion, no career can change others' lives better than teachers. Similarly, the reason I got to this point of achievement is because of the quality teachers."
The situations reflect how we overcome the problems. The childhood experiences have inspired Teacher Nee's return. As a teacher who was a student from a low-income family, but with passion and consideration from the teachers, her attitude has changed. Changes can be handled at different times of life because of teachers' instructions.
"I attempt to pass on knowledge and experience as a teacher. I build up motivation to help students with educational goals and problems they face."
"I am one of the local people, it's hence not difficult for me to adapt to the environment because I perceive the students' and their parents' foundation. I begin to solve the problem by visiting students' places to communicate with their parents. The result depends on the parents' and local people's cooperation. Fortunately, we have lived in a close community. Once the parents know that I am one of the local people and basically familiar to each other, they are certain that I can foster their children. Mostly, the parents will listen to what I say because they know I wish them all good hopes."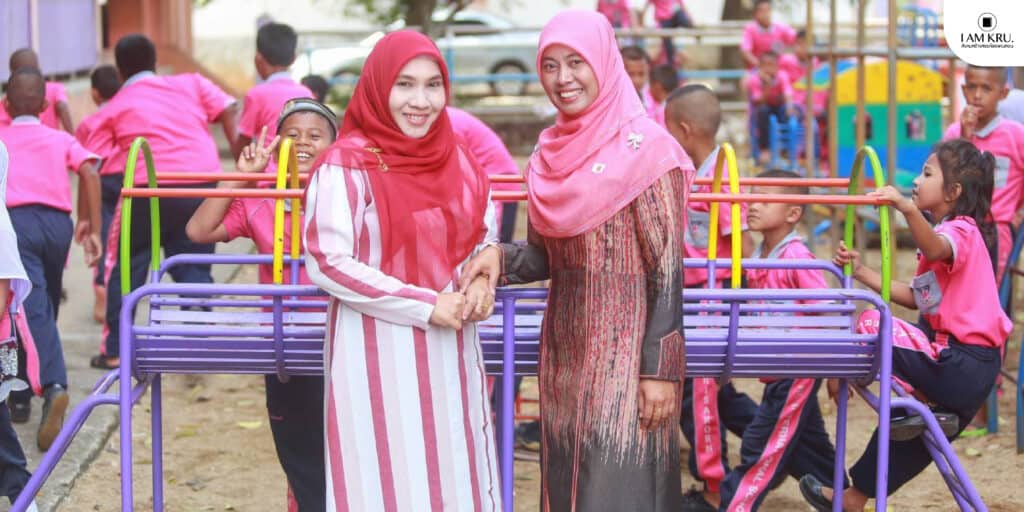 The intention to develop as one of people in the community
"Conditional Cash Transfer: CCT, a scholarship by Equitable Education Fund(EEF), helps a number of households to no longer handle their financial burden because the program subsidizes the cost of food, transportation, and vocational training expenses. Slow learning thus can be avoided when students usually attend the classes. As a result, they can receive better learning outcomes and have their life goals in the long term. Teacher Narunee A-Rong "Yu" who is currently serving as a teacher at Ban Korlorgaway school, although she is not from Si Sakhon by birth, she studied at Ban Korlorgaway school and decided to return to the district. Teacher Yu added, 
"At first I enrolled for the position of teacher somewhere else. However, I decided to return to teach at Ban Korlorgaway school. This is my intention because I love my own community. I repeated to myself that I needed to return and improve our school. I have lived here since I began to study, thus creating an attachment and I want to witness this place's development. Unfortunately, given that the media continues to portray the unfavorable image that prevents outsiders from settling, I think if there are not many people who will consecutively work, there will not be development. As one of the locals, it is my duty to return and help develop."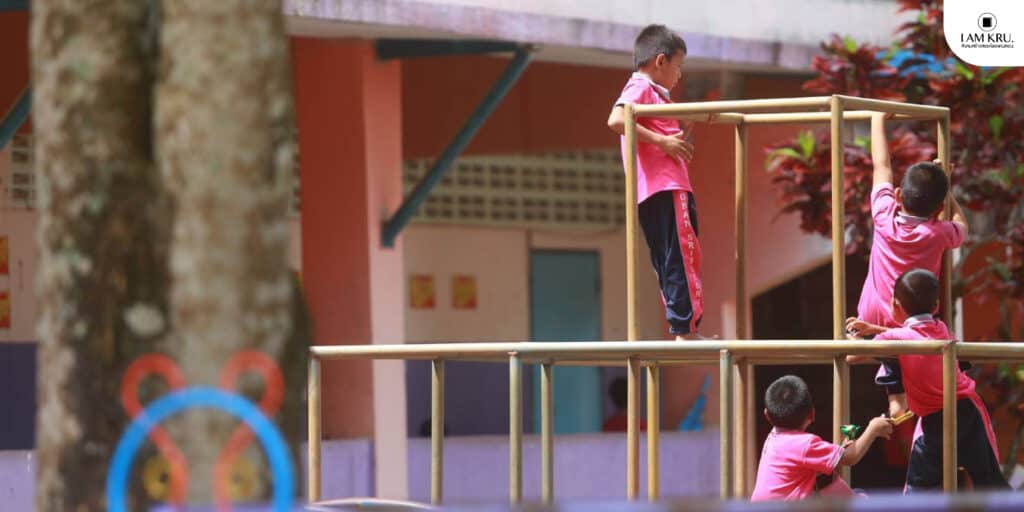 Experience furthered for local development
Working outside the area makes Teacher Yu realize the difference more clearly. She notices that children in the city have more opportunities in life because of a more organized educational system. Teacher Yu then applies those systems to the school. Some students are in shortage of finances and it becomes difficult for them to go to school. Meanwhile, this is a lack of an efficient role model for some students to follow. For that reason, their world is merely a life in the community. Teacher Yu then conveys her experiences to the children in order that they know what lies outside to be explored. Students must also concentrate on education, live their lives outside the box and believe that the higher the education, the more they can help their families.
"Students are the children in our community. They are like my relatives. Accordingly, I have to be the one who develops this area because nobody knows the place like I do. This is one of the duties as a teacher and someone who lives here to provide education to children and make sure that they get opportunities to develop themselves as equally as children in other areas,"
said Teacher Yu, with the overwhelming intention.
The intention to preserve their community of both teachers is an inspiration for teachers outside of the area to return and pass on knowledge and experiences in order to develop their hometown, because no one can solve the problems better than the ones who experienced similar circumstances. With a heart full of determination, developing schools in one's hometown to be as qualified as schools in cities is no longer impossible. 
479