"If we have a tool to collect and process information in order to lighten workloads for teachers, they will be able to spend their time doing other useful tasks." – Teacher Varakorn Sirisith, Bansansaikongnoi School, Fang district, Chiangmai province
Do you know what a teacher does in 1 day?
Other than teaching, teachers also have to deal with loads of paperwork, whether it be handouts or reports such as academic records and report cards. Many teachers struggle to fully dedicate their time to teaching because of this workload. Moreover, the data is disorganized due to lack of proper form of data management. Each teacher has to do new reports every single year. Every educational department agrees that the solution to this problem is a database system that teachers can use to quickly collect all kinds of students' information in one semester, and will be available in the next semester also.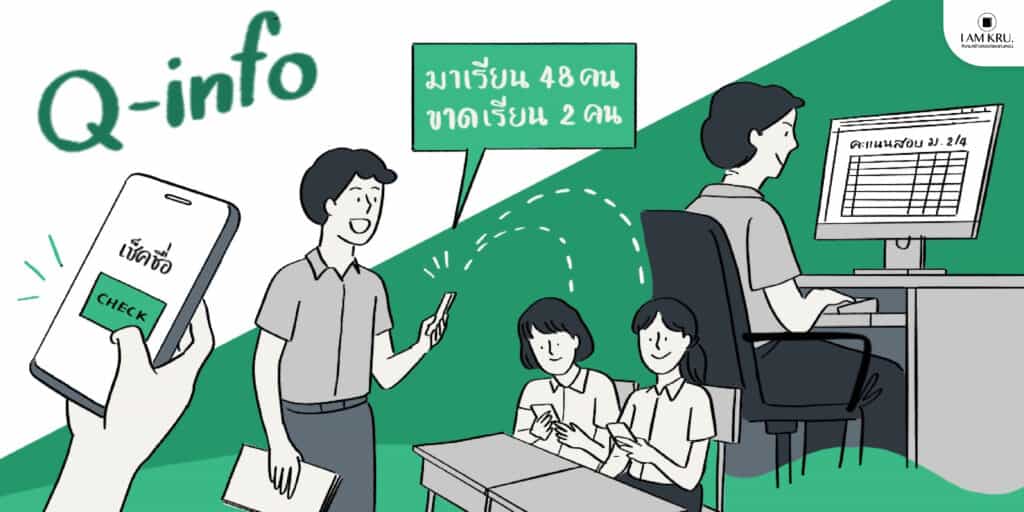 Q-info, a key to lighten teachers' workloads 
The Equitable Education Fund (EEF) has created an Information System for Educational Development or Q-info in 2015. This innovation was designed to collect students' information and other details in real-time, including arrival time in each day and each class, weight, height, test score, activity score, etc. All this information will be evaluated to improve the academic performance of each student. Nowadays, Q-info has become an important tool for the process of the School Quality Improvement Program (sQip) to further develop the quality of schools in Thailand.
Q-info can be used in every dimension of information 
The main benefit of Q-info is to check the statistics of each student's arrival time. Homeroom teachers can check the attendance daily via an application on their smartphones, they will be informed of the number of present students in each day. The record can be used in a statistical analysis of the absent percentage of each student in that particular month, semester, or academic year. With a real-time data collecting system, teachers will be able to see the information at that moment. If any student is absent, teachers can check and take action immediately. Other than the arrival time, Q-info also records the weight and height of each student, test score of each subject, key performance indicator score, students' behavior evaluation, and learner development activities such as guidance class, boy scout, club, etc. These pieces of information will be used for student evaluations in each semester to determine if they pass the criteria or not. 
Another benefit of Q-info is storing data for educational development purposes. If teachers have to consider a student's GPA in each year or in each subject, they can get quick access to all the information they need. For instance, if they wish to know the number of students with a GPA higher than 3.50 or the number of student who get an A in a particular class. Or, the subject that most students get low grades. 
The database in the Q-info system is available in Word, Excel, or PDF format which is convenient when teachers have to use or edit the information. Moreover, the School Director and others can view the information at all times. They could check and follow teachers to make a progress in report, unlike the previous system which they have to wait until the paper-based report is submitted at the end of each semester.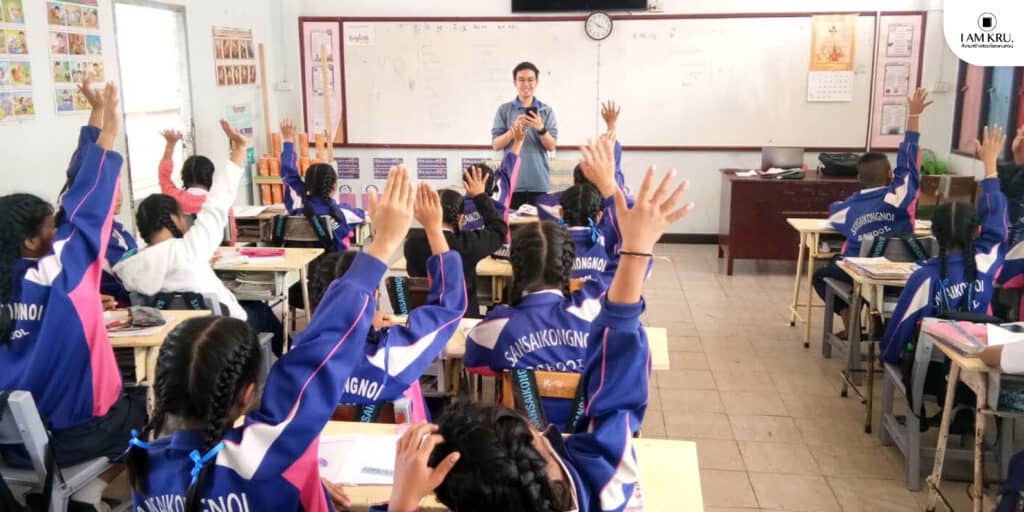 Q-info in an actual classroom
Varakorn Sirisith, Administrative Teacher, Registration and Evaluation Department, and a 5th-grade teacher at Bansansaikongnoi School, Fang district, Chiangmai province, has mentioned the benefits of the Q-info system that it can systematically collect students' information which could be used as an evaluation to improve teaching efficiency, including a tremendous reduction of the workload of teachers in Bansansaikongnoi School.
Teacher Varakorn explained that teachers at Bansansaikongnoi School benefit from using statistical information in the Q-info system every day. After receiving arrival information in the morning, teachers will soon find out if someone is absent or skips class due to the mismatch of arrival information in the morning and the number of students present in class. Having all the statistics stored in one place would make checking attendance easier than doing it on paper like before. However, they need to adapt to this method in the beginning. For instance, students have to send screenshots of their attendance in the school LINE group chat to remind the teacher.
Normally, Teacher Varakorn would spend almost a week completing transcripts and report cards but Q-info makes data collecting easier. If all teachers put in the test score of each subject in the system, they can retrieve and print out all of the information in just half a day, if they have enough printers.  
"Q-info meets the demand of new generation school teacher. This may sound huge but it really is. Teachers deal with a lot of workloads and it would take a lot of time to complete everything on paper. If we have a tool that can collect and process information to lighten the workload for teachers, they will be able to spend time doing other useful tasks."
Nowadays, the Q-info system is being used in many schools in different area. The system will be further developed in the future to be used in every affiliated school. There is a chance that student's information in the same area can be linked to one another, which would allow schools in the same district or educational service area to systematically develop altogether.  
530