Classroom learning may generally emphasize memorizing information and existing formulas to merely serve examinations or other specific purposes. As a matter of fact, what should be prioritized is the idea that students can simultaneously learn and apply the lesson to everyday life. Children can develop the knowledge of a certain subject by themselves without conforming to a particular set of processes. Therefore, the concept of New Classrooms should encourage active learning, educational process management that advocates students' learning by doing, providing a sense of trial-and-error learning that leads to students' 'experienced knowledge'. In addition, it generates students' thinking process of their past actions. A secret recipe derived from learning principles of the New Classrooms of students from Ban Pang Poy school, Fang district, Chiang Mai province is presented by making 'herbal crispy crepe from green banana flour'. The product is an achievement of students' cooperative experiments through learning from various products in the community. Continually experimenting and developing recipes can thus create qualified standards.
From the ordinary to new innovations
Ban Pang Poy school normally has vocational training activities concerning food processing. Teachers will participate in teaching the recipe whereas students conduct the experiment. The plants used as main ingredients are often the endemic plants, the ones that can be abundantly found in the community. For example, Pisang Awak, the most common banana cultivar, will regularly be processed, while unripened, into deep-fried banana, banana chips, and solar dried banana. Since the Starfish Country Home School Foundation has recently participated as a mentor to the school under the Teacher School Quality Program (TSQP), students no longer have to comply with the existing principles because 'children can invent and endeavor new recipes by themselves'. This is considered to be a significant alteration of the community's food processing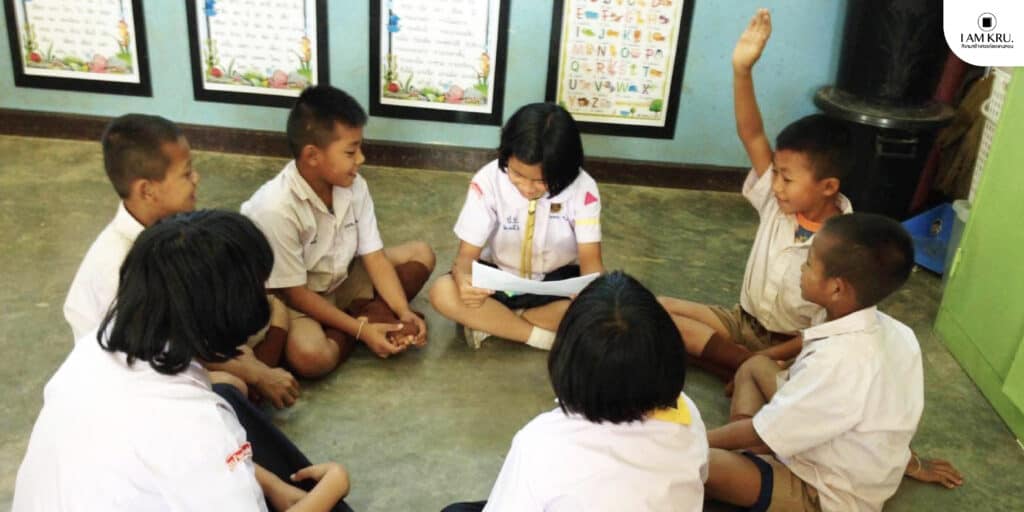 Good analytical thinking process begins with 'questioning'
Ban Pang Poy school now initiates in training students to think and question prior to taking measures. Other procedures from the basic knowledge will be taught subsequently. For instance, in the course of making a banana in coconut milk, the next step is to 'imagine' its appearance. Thereafter, 'plan,' 'begin the creative work' and lastly 'exchange ideas and cooperatively design to invent new recipes' for further development.
"In the entire process of making a banana in coconut milk dessert, students are trained to be acquainted with planning and problem-solving skills without teachers' guidance. The outcomes will accordingly be different. Some students add butterfly peas, flour dumplings, and coconut meats. As a result, they can learn from various attempts and improve on their recipes afterwards," said Teacher Sirabhorn.
"Teaching with no guidance provides children an opportunity to produce their recipes by themselves. For that reason, children can develop their ideas. They will also learn which recipe they do or do not like. They will enjoy and be excited with the outcome received. They have to learn from mistakes. To give an example, if dough is not properly baked, they must solve it. If some menus turn out to have an unfavorable appearance, but taste good, still, they become proud of themselves. They have now made crispy crepes, waffles, and donuts in many recipes.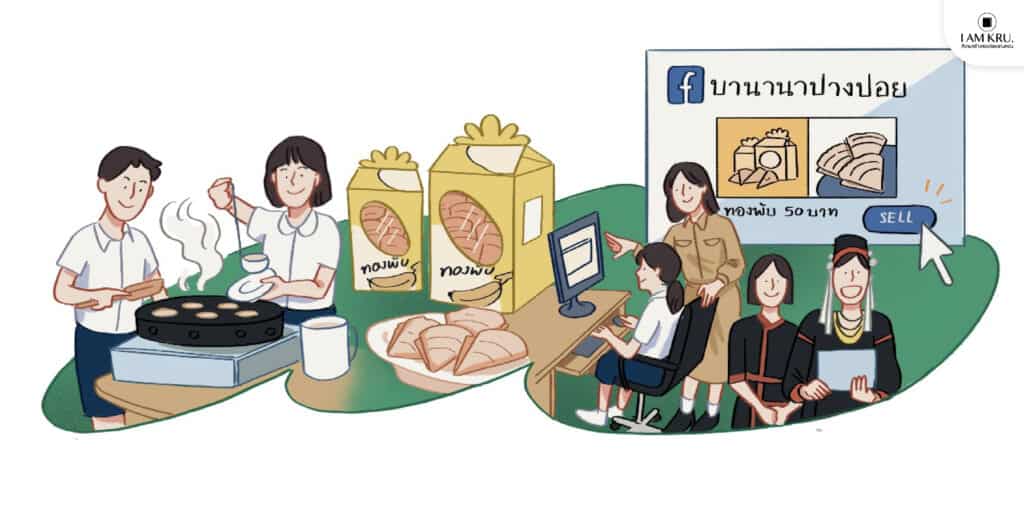 Children's imagination is as important as their determination
"After joining STEAM Design Process, a training session held by the Starfish Country Home School Foundation, [I] have brought the knowledge acquired to develop the vocational training activities for the school by adapting it into 'Pangpoy Maker,' a creative space for students to pursue their own interests in learning," stated Teacher Siribhorn.
Having been given the creative space, children then dedicate themselves to the Pangpoy Maker considerably. There are food processing competitions. In spite of failures in the beginning, they learn from the committee's suggestions that the green banana processing is an existing recipe including banana in syrup and banana chips. They eventually put an effort to develop their recipe by sharing ideas, resulting in making flour from the green banana that is used as the first component of producing other desserts including crispy crepes and caramelized crisps. Additionally, it contributes to students' imaginative space to create more recipes depending on their interest. Some students make crispy crepes with sesame, basil seeds, as well as perilla seeds which are all endemic to the community, for instance.
"Teachers will no longer teach or guide. Rather, they will help to suggest students to self-research. Students have to search for how to make flour from the green banana via the internet. Although it may turn out as a failure in the first place, they have to improve it in which this is the core of active learning."
Students' achievement is a prize of their determination in terms of self education entirely; from brainstorming, experimenting, improving, to selling the product through online sources. Another point to ensure their tangible accomplishment is an award received from National Arts and Crafts for Students in Food Processing Contest Activities 2019.
Learning and assertiveness are more important than awards
"The award received from the national stage is considered a literal accomplishment, specifically the students of the Pang Poy community. More than half of them are Lahu, indigenous people in the Northern part of Thailand. The mountainous children are introverts whose characteristics are different from those of children in urban areas who have more opportunities and resources. We try to push them up by making a space for them to perform and, importantly, to learn"
Ban Pang Poy School has continued to support children to further develop the product by starting a brand called 'Banana Pangpoy.' Also, students are taught to look for the new market in order to sell and develop their products, online media in specific. Consequently, students are now trying to sell their products through Facebook which has a promoting function in the form of a live stream. Besides, with the opportunities to think and act up, students can become more talkative as it enhances their interaction such as giving opinions in the classroom. This type of teaching is assured to be better than the original and students can all raise their standard equitably.
345